The 2021 Subaru Love Promise Customer and Community Commitment Award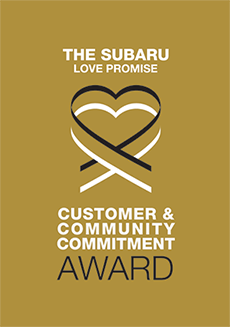 We've been nationally recognized for our dedication to our customers, our community, and the Subaru Love Promise.
We're honored to receive the 2021 Subaru Love Promise Customer and Community Commitment Award. This award nationally recognizes elite Subaru retailers who provide an exceptional customer experience at every interaction with Subaru. These retailers have also demonstrated an outstanding commitment to supporting passions and causes in their local communities in important areas such as the environment, community, health, education, and pets.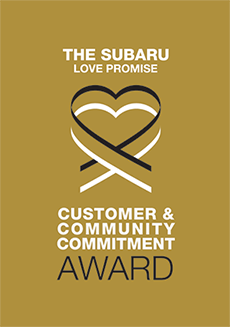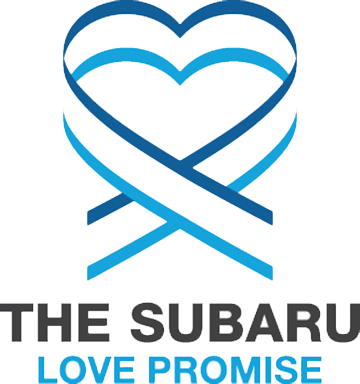 What is the Subaru Love Promise?
Subaru and our retailers believe in making the world a better place and the Subaru Love Promise is our vision of respecting all people. This is our commitment to show love and respect to our customers and to work to make a positive impact in the world.
How is Adventure Subaru dedicated locally to the Love Promise?
At Adventure Subaru, our Love Promise to the Northwest Arkansas area can be in seen in our partnerships with local nonprofits and charities. We're grateful for the opportunity, not only to be a part of the Northwest Arkansas community, but to serve it as well.
Humane Society of the Ozarks, Big Paws of the Ozarks, Animal League of Washington Co
Botanical Gardens of the Ozarks , Fayetteville Parks and Recreation , Pack Rat Outdoor Center, Apple Seeds, Inc. , Ozark Natural Science Center , NWA Land Trust
Ozark Literacy Council, Fayetteville Public Schools, Pilot Arts , Single Parent Scholarship Fund , Champions for Kids , Spark Foundation
Ozark Off-Road Cyclists, Fayetteville First Thursday, Arkansas Advocates for Children and Families , Meals on Wheels , Roots Meals for Musicians , Restore Humanity , Make a Wish , Hogeye Marathon , Running of the Hogs , Fayetteville Senior Center
Highlands Oncology, Hope Cancer Resources, Essentials Outreach
Love Promise Stories from Adventure Subaru
Subaru and Adventure Subaru believe in making a positive impact on the communities in which we live and work. We uphold that belief through our Love Promise Community Commitment. Every month, we select inspiring stories from customers and partners from around our area who strive to support our collective commitment and feature them here
Share the Love and Single Parent Scholarship Fund - Tyler C
A recipient story and how the support of the Share the Love event impacts our clients. I remember the day I realized that I had to do something. It was a Sunday morning in April 2019. We weren't hungry, we had a home, but it hit me that what we didn't have was a future. I called Northark College the next morning. From my very first interview for the Single Parent Scholarship, I felt the warmth and their commitment to helping people just like me in their journey to make a better life for their family. The Single Parent Scholarship has helped me in sooo many ways. I didn't even have a computer before I decided to return to school. The scholarship has allowed me to work fewer hours so that I can dedicate more time to Avery and to do what it takes to do well in my classes. The level of support given by everyone at SPSF NWA has been unbelievable. Somehow, they know when we are stressed and overwhelmed beyond comprehension, and up pops an email saying, "hang in there" "you got this." The encouragement is invaluable. It's been especially important during Covid. Covid has sort of put a cloud over everything, so Avery and I have tried to keep as much normalcy as possible. School work is different, everything is primarily on the computer now, but we're staying focused and motivated. It's funny, I never imagined that Avery and I would be stressing over and doing homework together. He sees how much effort and hard work I put into my schoolwork and he's right there with me making the grade. He sees firsthand the importance of education and how it will ensure a future for both of us, and even though he's only 13, his wheels are already turning thinking about what he wants to do when he goes to college. We both see that light at the end of the tunnel. At some point, we will be able to move to the Rogers, Bentonville area where there are many more opportunities available to us. I'm so thankful to have this opportunity to be an example for my son, and to show him how important education, hard work and dedication are in making a life for yourself. This journey has been a very difficult one, but with the support and dedication of SPSF NWA, I know that I will succeed.
---
Rooting for Nutrition & Health with Apple Seeds - Tanya C
Apple Seeds is grateful for Adventure Subaru's Share the Love program. Thank you to the shoppers who choose Apple Seeds! The funds received are going to Plant--Grow--Harvest--Donate fresh nutritious produce to kids and their families that need it most. Apple Seed's food donation and outreach began with COVID in 2020. When many children no longer had access to food through their schools, Apple Seeds partnered with their schools and area outreach services to donate and deliver nutritious fresh produce grown Apple Seeds' Teaching Farm in Fayetteville. Outreach spanned Washington & Benton counties and continues today. Because the need still remains. Apple Seeds is a Teaching Farm & Kitchen that connects children with where their food comes from through a farm-to-table experience. Their mission is to inspire healthy living through garden-based education, sparking a life-long love of fresh foods that are good for them. Every lesson, weather at the teaching farm or in the classroom brings a message of nutrition and health. All are conducted in a very positive and encouraging way, removing fear and building a willingness to try new good-for-you foods. Over the past year Apple Seeds has expanded their mission to include donation of thousands of pounds of fresh vegetables and fruits grown at their farm to children and their families that need it most. In order to help that produce be used and loved, Apple Seeds has developed kid-tested and approved simple recipes along with short 3-4 minute videos (accessible on YouTube) to ensure recipients get a great introduction to seasonal fresh produce. There has never been a more important time to educate and reinforce habits for good nutrition and health. We are making area youth a priority with the help of Adventure Subaru.
---
Adventure Subaru Delivers Meals on Wheels! - Lela H
In the spring of 2021, team members from Adventure Subaru committed to an eight week route of Meals on Wheels delivery. Every Friday for a couple of hours, members of the Subaru marketing team deliver meals to clients in our area. The local Meals on Wheels chapter is housed at the Fayetteville Senior Center. Adventure Subaru has been a long time supporter of the Senior Center, as well as Meals on Wheels. Delivering meals to seniors and adults who may not be able to provide nutritious meals for themselves is both an eye opening and humbling experience. As the delivery driver for Meals on Wheels, you may be the only person some of the clients see all week. The brief visits serve their purpose as not only a meal delivery service, but also as a wellness check. Many clients are grateful for the food and human interaction, but so are the drivers. It's really special to connect with people from all walks of life and get out of your comfort zone to help others.
---
Adventure Subaru supports Meals for Musicians - Jerrmy G
Fayetteville Roots distributes weekly food care packages to musicians in the Northwest Arkansas area impacted by Covid-19. Each care package represents approximately $60+ that a musician doesn't have to spend on groceries, stretching income during uncertain times. The meals program fulfills the non-profit mission of connecting our community through music and food. Through the support by donations from the community, including Adventure Subaru, Roots provided food to well over 130 NWA musician households. We are grateful for the continued support of organizations like Adventure Subaru that recognize the ongoing need to support members of our community.
---
Subaru Gives Warmth- 7Hills Homeless Center - Danielle D
As temperatures drop in the Northwest Arkansas region, the need for warmer attire and blankets for those in need in our area increases. The local homeless shelter and day center, 7Hills, works around the clock to ensure that needs are met for the most vulnerable members of our community. In early November, Subaru of America launched the Subaru Loves to Help campaign. Part of that is their partnership with local retailers. Through this partnership, Subaru of America provided eighty blankets to be donated to the local homeless shelter. Adventure Subaru jumped right in at the opportunity to help and facilitated the donation. This was also a great opportunity for staff members to help out, and help out they did! Adventure had eight staff members take time out of their day to do good in their community. We are so grateful for Subaru of America and Adventure Subaru for recognizing the needs of others.
---
Make a Dogs Day - Carmen N
Great news for Miss Betty, she was the recipient of Make a Dogs Day by Adventure Subaru! Betty was rescued from a local shelter, she is heart worm positive. She has been in a loving foster home under the Animal League of Washington County. Miss Betty has started her heart worm treatment, which is very expensive, and the treatment takes 6 months. We got the call from Adventure Subaru that they would like to sponsor Miss Betty's treatment and honor her for Make a Dogs Day! We were overwhelmed with joy and so appreciative of the support of the Adventure Subaru Team! We are honored to be a partner with Adventure Subaru, they have supported many of our fundraising events and also have hosted many adoption events over the years! For Miss Betty, not only did she receive a sponsorship for her treatment, her Foster family finalized her adoption at the check presentation! What an awesome day for Miss Betty!! Thank you, Adventure Subaru, your philanthropy in the community is like no other! Carmen Nelson Animal League of Washington County Director
---
Terracycle: Small Choices with Big Impact - Faebyan W
Pack Rat Outdoor Center is a small retail business specializing in helping our neighbors in Northwest Arkansas and abroad adventure in the outdoors. Along with offering the "best selection and most experience," we take our impact as a retail business just as seriously as our love for taking every opportunity to protect our planet. Our core company values demonstrate through action that respecting our planet and community means we ensure responsible business practices not only through social equality, energy conservation, and community outreach, but through meticulous waste diversion practices. We have always greatly admired Subaru's determination to be a zero waste business and also aspire to uphold zero waste business practices. Since 2014 we have recycled difficult to recycle items through Terracycle (initially a program sponsored by Clif Bar for items such as energy bar wrappers). We were thrilled to partner with Adventure Subaru in 2018 to expand this community opportunity to recycle even more waste that is normally "fed" to a landfill. Offering Terracycle boxes sponsored by Adventure Subaru to recycle food wrappers and disposable cups, lids, and straws at our shop has been an important resource to the community and our staff. Not only do these tall, green boxes offer a way to recycle, but also initiate a conversation about where most waste actually goes when it goes "away." Collectively, the Terracycle boxes at our shop and Adventure Subaru have gathered and transformed over 1,300 pounds of trash into park benches and picnic tables. We agree with Primatologist and Anthropologist, Jane Goodall, in that every action counts towards the bigger picture and each individual can make a difference with each choice made-no matter how small. We are encouraged daily to make the seemingly small choices of diverting a single food wrapper, single disposable cup, or single straw from the landfill with the appreciation of knowing that each "single" action has the capacity to accumulate into big change. Every landfill was once a wild space to play, a place to build homes, or a place to grow food and this understanding keeps us mindful of our "small" yet hugely impactful choices. It is a privilege to protect our precious green spaces in partnership with Adventure Subaru. We offer our deepest gratitude for their continued commitment to our community and world.
---
Subaru Loves Pets, and so does Adventure! - Danielle D
During the month of October, Adventure Subaru continued to prove to the community how much they love pets. They teamed up with the Animal League of Washington County to help a shelter dog, Betty Pearl. Betty Pearl was a stray that was picked up off the streets by the local shelter. Once in the shelter, they noticed she was severely underweight, was infested with heartworms and had mammary gland tumors. The Animal League of Washington County stepped in to help and placed Betty Pearl in foster care. Adventure Subaru had worked with the Animal League in the past and knew whatever they could do would be a good fit. Adventure covered the cost of her vet bills, in the thousands of dollars, plus, many staff members donated money (with Adventure matching their donations, dollar for dollar), to help out the other animals that may need medical care. Since the Animal League is a non-profit, they rely on donations and organizations to help with funding. As of November, Betty Pearl has completed nearly all her heartworm treatments, had most of her tumors removed, and is a healthy weight. But, best of all, she was adopted by her foster family and now is living in her forever home. Congratulations, Betty Pearl, and THANK YOU Adventure Subaru!
---
Subaru Loves Literacy! - Patty S
In August 2020, Ozark Literacy Council partnered with Adventure Subaru to fill little libraries across Northwest Arkansas! Our board members and Subaru employees hopped in their Subarus and drove around local neighborhoods to share books in community little libraries - in neighborhoods, schools and community centers. At Ozark Literacy Council, our mission is to improve lives through expanding and promoting literacy within the community. In addition to sharing books that are donated to us, we provide free literacy classes to adults in Washington County who lack literacy skills. Most of our students learn English as a second language. With the help of supporters like Adventure Subaru, our students are able to achieve their goals like obtaining jobs or promotions and passing their driving test or citizenship exam. We offer one on one tutoring and small group classes to help 400 adult students each year build their English competency and see real improvements in their lives. They become part of the Washington County community and more fully participate in all we have to offer in Northwest Arkansas. Thank you, Adventure Subaru! We love Subarus, little libraries, and literacy!
---
Stuff the Subaru for 7Hills Homeless Center - Kelley C
During the month of October Adventure Subaru hosted "Stuff the Subaru" for 7hills Homeless Center. Items collected included camping gear, non-perishable food, and hygiene items. Thanks to the community of NW Arkansas and the Adventure Team. Adventure Subaru was able to donate two Subarus full of stuff for 7hills, plus $1000 to their Day Center. Thank you to everyone that contributed, it's because of you that Subaru is more than a car company. 7hills begins our relationships with our clients by meeting them where they are with a spirit of compassion. Our programs are designed to help our clients improve and develop skills and provide them the opportunities necessary to obtain and maintain stability. We rely on community partnerships to meet the wide variety of needs that our clients bring to us and to eliminate the duplication of services. Our programs are operated using best-practice standards highlighted and developed by the National Alliance to End Homelessness, the Department of Housing and Urban Development (HUD), and our local Northwest Arkansas Continuum of Care. We interact with all of our stakeholders with a spirit of transparency that allows us to get the feedback necessary to continually improve. To learn more about our specific programs, please visit our program pages. 7hillscenter.org
---
No Pressure - Debbie P
I had a brain aneurysm burst with a major bleed in my brain. My chance of surviving surgery was less than 25%. But I survived. My car was a 2004 but just had a little over 100,000 miles. No need to get rid of it. My daughter and husband started in on me about buying a new car specifically with a lot of safety features. My husband was adamant I buy a Subaru. I went to several dealers of other makes and models. I finally went to Subaru. They were kind, helpful, and no pressure at all to sell me a car. Unable to return to work, money was now a huge factor. I couldn't believe the car was so reasonable. Now between the Outback and the Forrester. I ended up visiting them 4 different times before deciding on the Forrester. I love this car. I went back so they could go through all the features. Two months after having the car, I learned about the automatic braking. I went over a hill and the car made this horrible noise and the car comes to a stop 1 foot away from hitting a deer. I was just thrilled my new car was ok. I give A+ to Subaru.
---
Jacob's Wish - Esther S
Four-year-old wish kid Jacob had a dream of visiting Mickey and his favorite Disney characters at the Walt Disney World Resort. This past January, Adventure Subaru made this wish a reality! Thanks to Share The Love donations and support, Adventure Subaru was given the opportunity to sponsor Jacob's wish. Jacob and his friends and family gathered at Adventure Subaru for a surprise of a lifetime! Staff joined with all of Jacob's friends and family and surprised Jacob his one true wish had come true. This unforgettable day was filled with balloons, Mickey ears and lots of treats and gifts.For kids like Jacob, a wish can help them feel better and give them the hope and strength they need to fight harder against - and often overcome- an illness. Adventure Subaru's support helped Wish Kid Jacob see his wish of meeting Mickey Mouse at Disney World come true, opening up the door for endless possibilities for him and his family at a time they needed it most. Jacob was able to spend a magical week at the Disney Parks with his family laughing, smiling and making memories that will last a lifetime.Make-A-Wish® grants the wishes of children with critical illnesses. Doctors diagnose one child every 20 minutes with a critical illness. Recent studies have shown that wishes provide long-term impact through increased emotional and physical health, making children more likely to overcome their conditions. Each year, Make-A-Wish Mid-South grants wishes for more than 300 children locally. The average cost of a wish is more than $10,000, and Make-A-Wish relies solely on fundraisers, corporate support, and donations from the public to transform lives one wish at a time.We cannot thank the Adventure Subaru team enough for their continued support.
---
Ozark Natural Science Center + Adventure Subaru - Joanie P
Thanks to our partnership with ADVENTURE SUBARU, the Ozark Natural Science Center (ONSC) has been able to give a packet of Monarch Butterfly Garden Mix to every school child who participates in our outdoor education program. ONSC's mission is to enhance the understanding, appreciation and stewardship of the Ozark natural environment. The ADVENTURE SUBARU seed packet allows children to experience our mission in their own backyards. The first day for students at ONSC typically ends with a campfire. During the campfire, Teacher/Naturalists act out The Lorax. The play ends with the Once-ler tossing a seed to the audience, saying, "You are in charge of the last of the Truffula seeds." How wonderful that now we can give each child actual seeds to plant. On the second day we have a follow-up discussion about how each of us can be a good steward. The Monarch Butterfly Garden Mix has become an important talking point for this discussion. The Monarch Butterfly is in severe decline and needs people to care enough to act or it may go extinct. Thanks to SUBARU's helping hand, now each child has the opportunity to experience the joy of befriending this butterfly species. Planting the seeds, having a Butterfly Garden, is a great way for children to connect with nature. It is a chance for a family to work together to assist nature. As a Teacher/Naturalist, I, too, have a packet of these seeds. In a few weeks, it will be warm enough to plant them. I can hardly wait until I have a wildflower garden filled with lovely flowers and beautiful butterflies. Thank you SUBARU!
---
Thank you from Apple Seeds-Share the Love Campaign - Kelley C
Our Mission "Inspiring Healthy Living Through Garden-Based Education" March 25, 2020 Subaru of America Subaru Plaza, PO Box 6000 Cherry Hill, NJ 08034-6000 Dear Adventure Subaru team and Subaru of America, It is with much gratitude that we thank you for your support in the Subaru Share the Love Campaign. We are so proud to be part of this and appreciate all that Subaru does to make this so successful both financially and in building awareness in the community. We are so lucky to have you in our community building a stronger Northwest Arkansas. With your support, we are making amazing things happen. Thank you for choosing to make an impact through Apple Seeds – it is a big impact! Because of generous supporters like you, Apple Seeds is growing. We have been expanding our programming to reach students across NWA on our Teaching Farm as well as in the schools with garden-based cooking classes. In 2019, we were able to reach over 10,000 students! Apple Seeds could not continue to grow and touch the lives of our young students without supporters like you. We are so grateful to you for believing in our mission and generously donating to our efforts! Sincerely, Mary Thompson Apple Seeds Executive Director 2648 N. Old Wire Road | Fayetteville, AR 72703 | appleseedsnwa.org contact@appleseedsnwa.org
---
Spark Race Series & Running Clubs - Melissa C
The Spark Foundation is thrilled to have a partner in Adventure Subaru! We're a local Northwest Arkansas nonprofit with a mission to create a positive impact in the community by providing increased access to health and fitness education and opportunities. Adventure Subaru's commitment to community development, outdoor recreation, and sustainability has played a huge role in our growth and impact over the years. We fulfill our mission through our racing events, outreach programs like school running clubs, and local giving in support of physical education. We're most recognized for our annual races: the Cow Paddy Run, Hero Half Marathon, and Nutty Runner 5K. Since 2011, we have served over 8,500 runners—helping people of all ages build the habits for a healthy, active lifestyle. No matter where you are in your running journey, Spark welcomes you to find joy in movement and celebrate what the human body is capable of. Since 2017, we've provided over 400 scholarships for low-income students to participate in ours and other local races (Chile Pepper Cross Country Festival, Hogeye Kids Marathon, Kendrick Fincher Hydration Celebration) for free! Through our school running clubs, we reach over 250 students each year providing a combination of curriculum, coaching, and healthy snacks in partnership with local schools. Each of our races is more than a running event—it's a community celebration of coming together to support each other, set goals, and be active outside. Adventure Subaru has been with us through "rain and shine" ringing those cowbells to encourage children, families, and the community at large to try their best and connect through running. Our participants love gathering under the Adventure Subaru tent for snacks and connection after each race or to dry off after a muddy run! The crew has helped support Spark's sustainability efforts through their partnership with TerraCycle for our energy bar wrappers. Additionally, the Subaru team has gone above and beyond on race day whenever needed. Once at the Hero Half Marathon, staff stepped in to help hand out medals at the finish line as firefighters who had been doing it rushed to help an injured runner. Because of the quick response from the firefighters, the runner was okay, and because of the quick assistance from Adventure Subaru, everything else at the finish line went smoothly for other runners. Not all partners will jump in like that—proof that Adventure Subaru is truly there to serve the community! Adventure Subaru's longterm support and hands-on approach to community giving has made all the difference to Spark and our runners over the years. Thank you for caring for the well-being of Northwest Arkansas!
---
Reducing Waste at Local Events - Mary F
Adventure Subaru partnered with the Botanical Gardens of the Ozarks (BGO) for their Art in the Garden event. They hosted the Waste Stations and had the opportunity to demonstrate the best way to dispose of waste that works best for the environment. With Adventure Subaru's support the BGO is able to reduce the waste produced by their large fundraising events and also help educate the community on how to properly dispose of waste and recycling.
---
Hygiene Supplies for Families Living in Poverty - Mary F
Many of us take for granted having access to basic hygiene items such as soap, shampoo, and toothpaste. Yet there are many individuals and families living at or near poverty in Northwest Arkansas that struggle to afford these items. During the month of June, Adventure Subaru hosted a donation drive and encouraged team members and community members to bring basic hygiene items to the dealership. All items were donated to Essentials Outreach, a local non-profit that provides these items at no cost to people who struggle to afford these basic items. In 2018 Essentials Outreach served over 900 families. In addition to the donation drive, Adventure Subaru donated $2000 to Essentials Outreach to help them continue helping people in our community. https://www.nwahomepage.com/news/help-rural-families-in-need-all-month-long-2/
---
Subaru Shares The Warmth - Debbie K
Adventure Subaru of Fayetteville, Arkansas, met with the staff and nurses of Highlands Oncology Group (HOG) July 10 to deliver custom made blankets and craft kits for the cancer patients receiving treatment throughout their Northwest Arkansas facilities. Jeff Hunnicutt, CEO of HOG appreciated the alliance. "Highlands Oncology would like to extend our greatest thanks for this generous gesture. It is important to see this demonstration of teamwork between the Leukemia &Lymphoma Society and Subaru of America, with the goal of reaching our patients who are battling cancer in Northwest Arkansas." Shawna Jarett, CFO, shared his sentiment. "The comfort and warmth afforded by the Subaru Loves to care blankets is appreciated by patients undergoing cancer treatment. This initiative fits well with Highlands, as patients and their comfort are at the center of what we do." Highlands Oncology Group currently serves roughly 600+ patients a day between both the Fayetteville and Rogers clinics. This number does not include Physical Therapy or Surgery Departments. Hannah Tebeest, an employee and patient of HOG, exemplifies the reason why Subaru partners with LLS and HOG."I am a Hodgkin's lymphoma 26-year survivor. I was diagnosed in 1992 as a 17 year old. I was told it was a treatable cancer and after having surgery, met the doctors who would later become Highlands Oncology Group. I had treatments during my senior year of high school at NARTI with some of the Technologists still working with Highlands today. I went on to become an X-ray Tech and now work at Highlands in the CAT scan - Imaging Department. I have been able to reach out to the Leukemia & Lymphoma Society for help with being a cancer survivor and receive preventative cancer education. I am thankful for the quality care provided in Northwest Arkansas that has allowed me to get married and raise a family after childhood cancer." In May of 2020,Highlands Oncology Group plans to open doors at a new center in Springdale near Arkansas Children's Hospital. This will increase local access to care for patients like Hannah so they can stay close to home, friends and family while undergoing treatment. Shawna Jarett adds, "The new Highlands building, currently under construction in NWA, has been designed with the overall patient experience as the focal point. We give our thanks to Subaru of America and the Leukemia & Lymphoma Society for sharing in the care of these patients."
---
Providing Essential items for NW Arkansas - Cristie G
We are grateful that Adventure Subaru selected Essentials Outreach as one of their "Share the Love" recipients. Adventure Subaru was the sponsor of our Essential Music Festival which was an afternoon of fun music, in addition to raising funds to support our mission. In addition, they sponsored a month long product drive of our 10 Essential items. Essentials Outreach provides health and hygiene items to rural communities in NW Arkansas. These items maybe unattainable for those families who live at or near poverty levels and are not available at local food pantries. In 2018 Essentials Outreach served over 900 families. The items collected by Adventure Subaru, which we distribute monthly are, toilet paper, toothpaste, toothbrushes, shampoo, dish detergent, laundry detergent, razors, shaving cream, deodorant, and bar soap. The funds we raised during our event will go directly to purchase these products. With the support of Adventure Subaru, Essentials Outreach will be able to continue providing assistance to our rural neighbors. Thank you for being a partner in "sharing the love" with our community
---
Share the Love Makes a Huge Impact at Apple Seeds! - Kyra R
We are so grateful that Apple Seeds was selected as one of Adventure Subaru's local beneficiaries during their Share the Love Campaign in 2019. What an incredible opportunity for us to build awareness for the work that we do and receive such a generous gift that furthers our work in big ways across NWA. Apple Seeds provides garden-based programming for nearly 10,000 young students each year. We have field trips to our 2-acre Teaching Farm, farm to table cooking classes, and cooking classes inside the schools. All of our programs are designed to expose students to fresh produce, educate them on the benefits of eating healthy and basic cooking skills, and inspire them to make more nutritious food choices when they get home. More than 50% of the students that participate in our programs actually go home and make something in their kitchens that they made with Apple Seeds. With Adventure Subaru's support, we have been able to make our programs accessible to those schools and students in the greatest of need and reach more students across the region. Thank you Adventure Subaru!!
---
STL Grant Goes a Long Way for Rescued Animals - Carmen N
We can't thank Adventure Subaru enough for their support!! As a recipient of the Share the Love Campaign, we have been able to continue our mission of helping animals in need. We rescue dogs from hoarding cases, puppy mills, and animals in shelters that need medical care. With Subaru's support, we have been able to say YES, when we receive a call from shelters or Law Enforcement to assist with animals in need. We have treated dogs that need life saving surgeries, heart worm treatment, broken limbs and dogs that need extra TLC emotionally to become adoptable. The Subaru grants make it possible that we can help these animals that otherwise would be euthanized. We also rescue equines that come to us from cruelty/neglect cases. Horses that we rehab come to us extremely malnourished. It takes 3-6 months to get them healthy and its very costly. With the generosity of Adventure Subaru, we have been able to help hundreds of animals in need! Thank You Adventure Subaru!!
---
Kindness beyond measure! - Laura B
I recently bought my first Subaru at the age of 50, call it a mid-life crisis in reverse trading in a yellow and black convertible Chevrolet Camaro I LOVED and loving called Bee! After hours and hours of research, comparisons, and test drives. My husband and I had a few precious hours on a Friday evening to drive to our local Subaru Dealership, Adventure Subaru in Fayetteville AR. We stumbled into the showroom, dazed because a salesman hadn't met us upon entering the lot and began the pressure of a sale. A kind young man, Stephen Walker, asked if we were being helped and began visiting with us about Subaru. See I only thought I wanted a Subaru (The commercials were amazing adventure and safety, and I'm not a person who falls for silly marketing)...I had no idea which model! He took the time to allow us to drive each of the models under consideration and explain the differences. I feel in love, Subaru LOVE! We came back on Saturday and bought the Subaru of my dreams. Stephen was giving our exit interview explaining all the options and making sure we were comfortable with our vehicle. My husband noticed a small nick on the back passenger side and showed Stephen. He explained it wasn't an issue and asked that I bring it back next week and they would fix it. So, I brought it back the following week he graciously had another Outback ready for me to get right back to work. And when he called I returned to pick-up, while I waited to pick up my vehicle leaning on a counter in the showroom (wondering if I should have another of those delicious Blue Sky soda's I had when be bought) I had chance encounter with a cool cat, that I described to my co-workers a "Jimmy Buffet" character, who asked what I was up to. I explained; "Oh, I just bought my first Subaru and it had a little nick in the paint. They fixed it today and I'm picking it up."A few minutes passed and Stephen said he had my Outback ready, but wanted to show me something. Seems the nick was a little more difficult to repair than expected. It was going to take a couple days and dealership would have to send it to an auto body shop. About this time that cool cat comes out the front doors and ask Stephen what we are doing. Stephen in his soft-spoken words explains (I'm wondering if this guy someone who had an interest in my story or was just a customer)..... When Stephen explains; "I'm sorry Mrs. Bradshaw, This is Don Nelms, the owner of Adventure Subaru." Mr. Nelms shakes my hand and tells me that this is no way to start my adventure with Adventure Subaru and tells Stephen to get me another Outback exactly the same as mine!!! I can't believe my ears, I have almost 350 miles on this car and they are asking me to take another one! My head is spinning and I ask to call my husband, it seems too good to be true in this day and age to come across someone who cares about me?! We graciously accept and make the trade. The next week my husband and I, and our daughter (who turned 14 and had a dream of horseback riding through the mountains) drove our Outback to Breckenridge CO!! We drove over Boreas Pass and explored the mountains in a way we never thought possible! Our family story is not one different from many Americans; Long work hours juggling family and trying our best to balance, cancer, stress, and wondering if you are doing the right thing. When we are behind the wheel of our Outback, we count our blessing and precious moments together and the safety we can give our family getting climbing our dreams Kindness beyond measure!!!! Thank you Stephen Walker and Don Nelms!!!!!!
---
Subaru Loves a Good Picnic! - Kyra R
Adventure Subaru jumped on board to make this year's Picnic on the Farm one of the best Apple Seeds has ever had! Picnic on the Farm is Apple Seeds' annual friend & fundraiser...bringing more than 300 community members out to the Teaching Farm for a picnic! Picnickers enjoy great food, drink, farm games, lives music and a setting unlike any other. They also get a chance to see the Teaching Farm and even cook in our new Teaching Kitchen. The more community members who come out to see what we're doing, the more awareness of the need and our work in the community. That means a great deal to us! A huge thank you to Subaru for sponsoring the picnic, brining in a fantastic tent for needed shade, awesome freebies for the first 100 young picnickers and their picnic spirit!
---
Housing for our homeless veterans - Kim W
Adventure Subaru has been a sponsor for our last two Honor and Duty 5k races benefiting homeless veterans in Arkansas and across the country. This race is put on by the Next Step Homeless Services non-profit in Fort Smith, AR. The money raised each year goes toward the costs of running their Buddy Smith House- a 16 bed group home where each homeless veteran can stay for up to 6 months for zero cost while they regain their independence. Veterans are provided life skills training, job referrals, medical referrals and counseling. Each resident is required to save up to 80% of their income earned while in residence, (either thru disability payments or paycheck.) This money is returned to them upon graduation and provides their safety net as they return to independent life. in 2017, 65 veterans from 5 states participated in this program. Next Step is now collaborating with private businesses in the area to build a single family home that will be the first of it's kind- for a homeless veteran and his or her family. It will be called the Jack Bradley Freedom house, and is named in memory of a Korean War veteran. Adventure Subaru continues to support Next Step as we assist any and all homeless veterans in this area by being one of our loyal community partners!
---
Subaru Spreads the Wealth - Emily D
Pack Rat Outdoor Center has been hosting a series of fundraising events for local non-profits over the past 6 years and it continues to see new faces with each passing season. This year, Adventure Subaru took an active role in this community outreach effort by donating proceeds to each hosted non-profit. Adventure Subaru recognizes the need for fostering community and building relationships with the people who live here. When they decided to get involved, they were taking ownership of their place in this community and sending a message that their business goals reach beyond selling cars and making money. Through this partnership, Adventure Subaru has effectively had a hand in supporting Arkansas's Buffalo River, outdoor recreational areas such as Lake Fayetteville & Kessler Mountain, as well as supporting the education of our future generations to appreciate Mother Earth. Thank you, Subaru, for being a friend, a neighbor, and a partner.
---
Adventure Subaru supports Autocross for everyone - Branden S
I reached out to Adventure Subaru mid-March this year after another Sponsor dropped out. Despite the fact that they already had their marketing budget planned out months beforehand... they went ahead and met with me anyway. Our organization is in Fort Smith about an hours drive South from Adventure Subaru's location... not necessarily in their backyard... so I figured it was a long shot. After I met with the Marketing team they seemed receptive to the idea but they needed some time to see if they could make it all work with their already tight budget... they said they'd let me know. Well, a few days later they said they would help us out. With Adventure Subaru's support, we were able to get much-needed equipment and marketing materials to get our Autocross events running and noticed in the community. Our events are fun for the entire family. We have competitors from 16-75 years old competing in timed competition. Their support allows us to have these events. This type of competition allows drivers to sharpen their skills and helps them be better & safer drivers. Additionally, with their support, it allows us to donate all of our admission fees from each event to the local Veterans organization. I can't thank them enough for the support!
---
Subaru brings Meals on Wheels of Elkins to life. - Richard D
The Subaru awarded to the Meals on Wheels of Elkins instantly brought life to our program. We were immediately able to add volunteer drivers, which in turn created an additional route to our Meals on Wheels service. Because of this we were able to serve more seniors in need. We're located in one of the worst spots in the nation for senior hunger. The new Subaru is helping to combat that problem. We're also able to transport more seniors, when the Subaru isn't delivering meals, to and from the senior center. This allows them to socialize with others, get exercise, and participate in activities. We show off the Subaru whenever we can at special events, parades, and more. The Subaru has generated multiple press opportunities on tv and in the newspaper. Thank you, thank you, thank you.
---
A Story of Puppy Love - Chris A
"I just wanted to thank you and Adventure Subaru for coming out to do the pet adoption event on December 2nd. Don't know if you'd heard but out of the 12 dogs we had available 8 of them got adopted as well 5 of the 8 cats that we had available. (YAY SUBARU!!) By the time I reported back to work on the following Thursday, 2 more of our 12 had adoptions too, I'm pretty sure it was people who'd been to the event but didn't make a commitment the day of the event. The only 2 left were Hubert & Suzan. As fate should have it, I'd been eyeing Suzan as a playmate for my dog, Skye. I was amazed that no one adopted her since she is small and has more character than a dog 5x her size. ¿So last Saturday we tested her with my dog Skye and they were a perfect match. So Suzan (Suzi as we call her) is now a member of our family & recovering well from her spay surgery. Just wanted to share this story with you as I thank you again for everything you & Adventure Subaru do for pets. Have a great day!" - words from Chris of the Washington County Animal Shelter (A dedicated Subaru and pet owner)
---
Pictures with Santa - Supporting the ALWC - Connor C
The Animal League of Washington County is one of Adventure Subaru's 2017 Share the Love local charities. As part of a grant by the ASPCA and in partnership with Adventure Subaru, the Animal League of Washington County was able to support pet adoptions and basic veterinarian care this holiday season.
---
Hero Half Marathon - Connor C
The Hero Half Marathon started in 2014 as a 9/11 memorial event to commemorate the sacrifices made then and now by firefighters, law enforcement, and first responders. All proceeds support organizations that meet community needs, celebrate an active lifestyle, honor the heroes in our everyday lives, and make Fayetteville and Arkansas a great place to live, work, and play. Proceeds benefit several non-profits including special olympics, the Fayetteville Public Education Foundation, the Muscular Dystrophy Foundation and more. This is our 3rd year to sponsor the event. The race is held every year to coincide with Fire Safety Week!
---
Monster's Ball - Humane Society for Animals - Connor C
With a car show, pet adoption, and trunk or treat, folks celebrate Halloween and support a good cause. Held during Subaru Loves Pets, the proceeds of this event go to support the Rogers Humane Society for Animals. The Humane Society for Animals "provides for the welfare of dogs and cats in Benton County through shelter and adoption services, spaying and neutering vouchers, and humane education. The Humane Society for Animals has held over 90,000 animals since it originally opened in 1972. Our facility at 1st and Nursery Rd. was built in 1980 and continuously houses a total of around 85 dogs and 20 cats. Most of our cats and dogs are strays that have been dumped or abandoned. Others come from local animal control agencies and from people who can no longer care for them, that live in the county.
---
Ozark Literacy Council - Book Sale - Connor C
The Ozark Literacy Council provides four levels of one-on-one tutoring and classes in Adult Basic Literacy and English as a Second Language (Basic, Beginning, Intermediate, Advanced) that include curriculum in language, civic, financial, health, and workforce literacy. Today it is recognized as the oldest and largest literacy council in the state of Arkansas. In recognition of the Subaru Loves Learning Initiative, Adventure Subaru held a used book sale during the entire month of August. All proceeds went to support the Ozark Literacy Council.
---
Kendrick Fincher Education Program - Connor C
The "Be Smart, Bee Hydrated" program was developed to educate students on the importance of healthy drink choices, body systems, measurements, active living, and the dangers of obesity. Kendrick Fincher Hydration for Life's mission is to "Promote proper hydration and prevent heat illness through education and supporting activities."
---
Single Parent Scholarship Fund Sparks Awards - Susan I
The Single Parent Scholarship Fund (SPSF) has been helping parents achieve their educational goals for over 30 years. Adventure Subaru contributed $1,000 to help fund the SPSF annual dinner and awards ceremony to honor supporters and students. Barrett Baber was the inspirational speaker and entertainer. "You have made back-to-school a special time at SPSF NWA! Scholarships are being provided for 84 low-income single parents this semester. With families to support, higher education would not be possible for them without SPSF NWA. Thank you for empowering families to become financially stable and independent!" — Randy Werner, SPSF NWA Board Member
---
Thanks for Sponsoring the Annual Dogwood Walk - JoAnn T
JoAnn Traw, Director of Fundraising and Events for the Humane Society of the Ozarks writes: "On behalf of the Humane Society of the Ozarks (HSO), I would like to thank you for your Cool Canine sponsorship for the 25th Annual Dogwood Walk. HSO has been working to improve the lives of animals in Northwest Arkansas since 1944. Funding for our programs comes directly from generous citizens and businesses. Our programs include: low cost spay/neuter assistance, emergency vet care assistance, rescue/adoption, shelter/rescue outreach, feral cat trap/neuter/return (TNR), senior citizen pet care and community education. It is only with the generous support of donors that we are able to continue in our mission for the humane treatment of animals. Thank you again for your support for the 25th Annual Dogwood Walk."
---
Cow Paddy Run 2017 Is a Winner! - Melissa C
Melissa Caffrey, Executive Director of the Spark Foundation, writes: "You are amazing! Thank you for being a 2017 Cow Paddy Run Sponsor! With your support we presented a fun, safe, and successful race at Gulley Park on Friday, March 17, 2017. With over 400 registered runners, we had a great turnout of students, teachers, families, and community members. We are thrilled to report that we are giving back $3,000 directly to two elementary schools as top participation prize winners (our closest competition yet!) as well as $5,000 to the Fayetteville Public Education Foundation. Because of Adventure Subaru's generosity, we will be able to continue offering races that support health and fitness education like the Cow Paddy Run right here in Fayetteville, AR. As we continue to scale up, your sponsorship directly contributes to the growth and development of The Spark Foundation's outreach programming and community events for years to come."
---
Grateful Arkansas Adventurers - Michael H
Michael Hoover, Ed.D., Assistant Director of UREC Outdoors writes: "I'm writing to share our appreciation for Adventure Subaru's sponsorship of the Arkansas Regional Adventure Programming (ARAP) this year. Conference registration, the conference social, and the LNT Trainer Course could not have happened without your generous support. We had 110 attendees from 17 universities, 20 presentation sessions with 40 presenters, and 5 pre and post conference sessions (including Adventure Subaru's Leave No Trace Trainer Course.) Thanks again for all the you have done for ARAP over the years." Adventure Subaru's own Jonathan Vogler attended and assisted in leading the Leave No Trace Trainer Course.
---
Adventure Subaru Loves to Care - Ruth D
The LLS NW Arkansas Division was proud to team up with Adventure Subaru in Fayetteville to deliver 80 blankets, 10 childrens kits (each with a fidget spinner from our friends at Adventure Subaru!) and 90 messages of hope to Highlands Oncology Group in Rogers. Adventure Subaru's Milah Pack, Highlands Oncology Group's Courtney Trevillion and Kathey Rhoads, and LLS's Executive Director Debbie Kersting, Senior Campaign Manager Jessica Steele and Board Member Brandon Masters were all in attendance to unload boxes and deliver blankets directly to patients receiving their treatment. As the team delivered blankets to patients in the infusion center, we met three existing Subaru owners including a couple who bought their two Subarus from Adventure Subaru and have already planned to go back to Adventure Subaru when the new 2020 model of their vehicle is ready for purchase! It was a great morning meeting such wonderful people and seeing smiles on the faces of everyone who received their blanket. Highlands Oncology Group even provided a tour of their wonderful facility. Thank you to Adventure Subaru for providing so much hope and warmth to patients in NW Arkansas!
---
Earth Day with Adventure Subaru - Susan I
Adventure Subaru sponsored 1,500 kids to visit the Botanical Garden of the Ozarks for an Earth Day Celebration and enrichment program. Kindergarteners through third graders had a great time learning about their environment and how to care for it. Adventure Subaru gave each child a Butterfly Garden Seed Mix to take home and plant. Thanks to the Botanical Garden for letting Adventure Subaru take part in this annual event! Subaru Loves the Earth!
---
Adventure Subaru Supports United We Dance NWA - Joe R
United We Dance Northwest Arkansas is a free, fun-filled season of community dances for adults with development disabilities, and Adventure Subaru has been a sponsor of this event since it began in 2014. Adventure's own Service Manager, Bill Durham, is a founding member of this 501c-3 organization and serves as D.J. at every dance. This partnership DOES make a difference, one dance at a time, creating friendships and connections that have no barriers.
---
Adventure Subaru Gifts Feed Communities - Denise G
Adventure Subaru presented hometown charity Feed Communities with a Share the Love check for $44,265, bringing the total donations over the last 3 years to $150,210! Executive Director, Ken Patterson writes: "Your support for us makes such a huge difference for our organization and for our efforts to serve food insecure families in Northwest Arkansas. We will use your gift to make real, tangible improvements in the lives of these families by increasing their access to healthy food - something that is out of their reach otherwise. We treasure our partnership with Adventure Subaru!"
---
Thanks for your support! - Margot L
During the August 2016 Subaru Loves Learning event, Adventure Subaru presented a check to Ozark Literacy Council (OLC) as sponsor of their upcoming Tutor Training Workshop. Executive Director, Margot Lemaster writes: "Thank you and the employees of Adventure Subaru for supporting the Ozark Literacy Council with a $2,000.00 contribution. The gift you made will be used to support our tutor training and will ensure we continue to offer quality literacy training to over 500 adults throughout Washington County with the help of over 130 volunteers. "There are many exciting new projects on the horizon and our growth has been a direct result of your years of support and service. Thanks so much for the thoughtfulness and care you bring to your work and to your support of OLC!"
---
Picnic on the Farm - Kyra R
"Thank you for serving as a sponsor in this year's Apple Seeds Picnic on the Farm Fundraiser. Apple Seeds could not continue to grow and touch lives without supporters like you. We are so grateful to you for believing in our mission and generously donating to our efforts!" Kyra Ramsey, Apple Seeds Program Director
---
Adventure Subaru Loves to Care - Susan I
During the month of June 2016, Adventure Subaru and the Leukemia & Lymphoma Society (LLS) provided much needed "warmth" to patients and their families fighting cancer. Adventure Subaru provided 60 cozy chenille blankets and messages of hope to patients at the Highlands Oncology Group in Rogers, AR. Adventure marketing manager, Susan Idlet, delivered the blankets and well wishes on July 8th (shown here with Lynsay L. Brautnick, MD, Highlands Oncology, Jamie Shipley, LLS, and Courtney Trevillion, Highlands Oncology.) "These blankets are such a lovely gift - we can't wait to give them to our patients," said Courtney Trevillion with HIghlands Oncology. "It was gratifying to have so many heartfelt messages of love and hope written by our customers and employees," said Susan Idlet with Adventure Subaru.
---
Thanks for the $56,934! - Denise G
Adventure Subaru selected Feed Communities as their Share the Love hometown charity for the second year in a row. The combined 2-year total donation comes to $106,934! Here's what the leadership had to say in a thank you card: "We cannot tell you how much this partnership benefits our organization. Your contribution allows us to touch the lives of people all over NWA by providing education & materials that increase access to healthy food. Thank you for being so wonderful to work with. We look forward to our future together!"
---
Cow Paddy Race 2016 - Susan I
Ben Putman, Executive Director of the Cow Paddy Run writes: "Thank you for your generous donation to the Spark Foundation and the Cow Paddy Run. Your contribution helped make our sixth year one of our most successful ever. This year we had nearly 600 runners register for the race, approximately double last year's attendance! We had students, parents, and educators from every school represented. When it was all said and done, we raised over $10,000 in support of education and lifelong healthy habits. With help from businesses like yours, we are able to provide an opportunity for children throughout our community, to challenge themselves, and to compete with others, all while benefitting our schools."
---
Adventure Subaru Helps Preserve Natural Spaces - John C
John Coleman, Chairman of the Board for the Fayetteville Natural Heritage Association writes "In 2013 the Fayetteville Natural Heritage Association made a commitment to raise $300,000 towards the preservation of Kessler Mountain in Fayetteville. I was a newly elected board member at the time and had this idea of bringing a trail run to Kessler as a fundraising effort sure, but also to give people the magical experience that comes from the 200+ year old oak trees, the fall colors, views of the Ozark Plateau, and the famed Rock City. The first business I called about sponsorship was Adventure Subaru and they immediately jumped on board. The funding they have provided is great, but it's also the legitimacy their sponsorship gave to our event. Once I could say Adventure Subaru was a sponsor other businesses wanted to be a part of that experience. That's the kind of reputation Adventure Subaru has in Northwest Arkansas. FNHA couldn't be more grateful for their support and to date the Kessler Trail Run has raised over $39,000! Thank you!"
---
Hero Half Marathon - Amy J
Race Committee writes: "Thank you so much for your support of the Hero Half Marathon. Your generous contribution helped make our second year even more successful than our first. This year we had 316 runners register for the half marathon and the one mile - a 76% increase over last year's attendance! We raised close to $11,000 for our beneficiaries, which promote and support a variety of causes from muscular dystrophy to health and education in our community. With help from Adventure Subaru and other sponsors, we benefitted seven charitable organizations that create meaningful differences in thousands of lives. Thank you for everything, and hope to see you at next year's event!"
---
Another Great Cow Paddy Run! - Max M
"Thank you guys so much for once again supporting our Cow Paddy Run! Thanks to you, we have successfully put on yet another amazing community event. As a result, this charitable run is able to promote life-long healthy habits in children, and also continue to be a financial supporter of our youth through public education. We look forward to our future together as proponents of health and education in our community!" The Board of Directors of the Cow Paddy Run sent us this letter along with a framed photo from the 2015 event. Proceeds from this run support innovative educational projects in schools through the Fayetteville Public Education Foundation.
---
24 Hours of Horseshoe Hell! - Micah B
Letter from Operations Manager, Micah Baird: I can't say enough how amazing it was to have Adventure Subaru sponsor our 1st Place Prize during Adventure Film School's Film Race in collaboration with 24 Hours of Horseshoe Hell Climbing Competition. The winners received $1000 cash to go toward the future of their creative endeavors in film and video production. Your generosity with not only the 1st Place Prize but also in loaning me a Crosstrek to get to and from the event was unbelievably wonderful. Everyone participating and spectating during the Film Race and during the screening of the films was blown away by your commitment to community events and programs and in encouraging creativity happen. Adventure Subaru's dedication to the Love Promise through local programs was evident in chatting with others from Arkansas Climbers Coalition and Pack Rat Outdoor Center who were also present at the event. The fact that they supported us in our first ever Film Race, to me proves their love and dedication in support of making a difference in peoples' lives!
---
Adventure Subaru Sponsors a Little Free Library - Margot J
Letter from Executive Director, Margot Jackson Lemaster: "Please accept the deep appreciation of the Ozark Literacy Council for the generous gift of $4,000 that Adventure Subaru made. This gift has been used to underwrite the "Speed Reading" Little Free Library kiosk designed by BRR Architects that was installed on the Fayetteville Bike Trail at the Arsaga's location on August 17, 2015. Your help in coordinating that installation event, as well as your overall support for the Ozark Literacy Council, is incredible and I cannot thank you enough for all you and your coworkers do for us." This Little Free Library was designed and constructed using salvaged auto parts from Adventure Subaru! The fun design features license plate 'shingles', bumper stickers, rotors and a wheel for the base. A group of kids and adults on bikes were invited for the unveiling and served cookies and lemonade. A month-long book drive was also held to help keep the library stocked. Adventure Subaru Loves Learning!
---
First Thursday on the Fayetteville Square - Hazel H
As beautiful as it is friendly, Fayetteville, Arkansas, strives to be the best community every day for its citizens and visitors. That sense of community led the Fayetteville Visitors Bureau to create First Thursday on the Square. Transforming the city's historic Downtown Square into a vibrant arts district, First Thursday features the work of more than 40 visual artists, live musicians, and street performers, along with food, drink, and childrens activities. It's a free community event for people of all ages that takes place from April through October, and quite honestly, it's a lot of fun. We wouldn't be able to do this without partners like Adventure Subaru. They've been with us since the beginning, and they're one of our strongest ambassadors. Go to any community event, festival, concert, etc., and I guarantee you the one business you will always see is Adventure Subaru. They're more than just a car dealership. They believe in giving back, and they do time and time again. In a time when businesses have become a little more wary about contributions, Adventure Subaru has never stopped. They know what I believe every business should know: If you take care of your community, it will always take care of you.
---
Meals on Wheels - Cayla W
Adventure Subaru held a food drive for the Fayetteville Senior Activity & Wellness Center during the month of June - 'Stuff the Subaru!' Staffer Darryl Willis delivered the goods to Director Cayla Wilson. "Thank you Adventure Subaru! Feeding Hungry seniors in Fayetteville! Thank you for your support for Fayetteville Meals On Wheels," wrote Cayla on our Facebook page. We LOVE TO HELP!
---
Call of the Wild Event - Jena B
Adventure Subaru was a perfect fit as a sponsor for Call of the Wild! This annual fundraiser contributed to scholarships for NWA 5th grade students. Students take an overnight field trip to the Center to learn about conservation and stewardship of the Ozarks. With commitment to improving the natural environment and teaching the value of taking care of our world, ONSC and Adventure Subaru are a match made in Heaven. Thanks for your sponsorship and for giving us awesome reusable shopping bags for the kids to take home their goodies from Call of the Wild.
---
Urban Forestry Sustainable Landscape Award - Derek L
Fayetteville's Adventure Subaru was the well-deserved commercial winner of the 2014 UFAB Sustainable Landscape Competition. Recognizing good examples of sustainable landscapes, the City of Fayetteville Urban Forestry Advisory Board (UFAB) competition selects winners from criteria of outstanding (1) Design and Aesthetics, (2) Preservation of Natural Environment, (3) Environmental Best Management Practices, and (4) Attraction to Wildlife. Applicants' properties are reviewed by a team of volunteer judges representing the fields of landscape architecture, low impact development, urban forestry, arboriculture, and gardening. Designed by Melissa Evans, RLA, sustainable landscape features at Adventure Subaru include: drought tolerant plants; pine straw planting beds without need for conventional weed barrier; street trees; efficient irrigation design; and use of grass pave in their overflow car storage area. Several energy saving desing elements were implanted into the main building as well. Although implementation of some of the sustainable features was not required by the City, Adventure Subaru's sustainable landscape and facility pays off economically, socially, and ecologically; sets a positive example for commercial development; and most importantly, represents Adventure Subaru's overall, positive commitment to the community
---
Art Experience - Trish H
Our children are smiling because of you! Your generous donation for our auction has allowed use to raise the funds to continue to provide an authentic Montessori education in Northwest Arkansas. We have been educating children at this school for over 20 years with Maria Montessori's curriculum as the centerpiece. The gift of education continues to give to the children each day as they grow in their love for learning and the desire to achieve more each day. You are an important part of that gift. On behalf of all the Walnut Farm community, I thank you for your generosity and commitment to helping us grow. We are proud to call you part of our donor family.
---
Arkansas Regional Adventure Programming - Jonathan V
We have hosted the ARAP conference at Horseshoe Canyon Ranch near Jasper Arkansas annually for the last three years. This conference aims to attract outdoor recreation and education programs from Universities and Colleges from around the region to present educational session, share programming ideas, and network to utilize common resources. The attendees of this conference are mostly students who share a common passion for protecting, playing in, and learning from our most precious natural resources. Adventure Subaru has been our biggest supporter over the last two years, often going above and beyond by committing to multiple levels of sponsorship monetarily as well as sending their wonderful staff to help with the event. Our most recent event saw close to 200 students from over 20 universities from Arkansas as well as states as far away as Wisconsin, Iowa, and Florida. Our event would not be possible without the support we have received from Adventure Subaru and we hope to increase the reach of our event with their continued support. We are deeply grateful to have a wonderful local business that gives so much back to our community.
---
Root Run - Kim P
Thank you, thank you for your years of support of the Root Elementary PTO Root Run. We appreciate your financial sponsorship and your provision of the official Pace Car. Your support is key to the continuation of this tradition. The Root Run brings together hundreds of runners and supporters for a morning celebrating fitness, the outdoors, and community. I love years of memories of cheering for kids, friends, community members, and those really, really fast people who finish in under 22 minutes! Adventure Subaru is part of those memories because as one of our largest sponsors, your name is prominent on everything having to do with the event! Thank you for contributing to our community and its traditions!
---
School of Whitewater Paddling - Michelle T
"On behalf of the Arkansas Canoe Club and The 2014 School of Whitewater Paddling, I would like to thank Adventure Subaru for their generous donation and membership to our event. The vehicle loan was just the icing on the cake and perked many potentially new Subaru owners. We enjoyed setting up our Information Booth donned with Subaru feathers which guided our new participants to sign up as then entered our camp ground at Turner Bend. Again, we whole sincerely thank you, Adventure Subaru, as your support helped to make this year's event a huge success!"
---
Fat Tire Festival - David R
When I met Dave and Dennis, the Nelms brothers, in the early 90s, it was clear we all shared a great love of the outdoors. Since day one of acquiring Subaru, they have demonstrated their commitment to supporting grassroots outdoor activities- more specifically, mountain biking in northwest Arkansas, an area where their assistance has been unmatched. Although Adventure Subaru has sponsored a variety of MTB-related endeavors, including race teams, advocacy clubs, and recreational rides, the most important event they have fostered is the Eureka Springs Fat Tire Festival. Founded in 1999 by local MTB advocacy group Ozark Off Road Cyclists and handed over to regional trail building company Progressive Trail Design in 2007, the "Fatty Fest" is the premier MTB fest in the central South. Over 1,000 competitors and riders take part in three days of competitive and noncompetitive events. The festival is more than a just a good time. The resulting trail building has provided a permanent outdoor recreational opportunities and quality of life improvements for Eureka Springs' citizens and visitors. My wife and I, my parents, and my sister, among other extended family members, are proud Subaru owners. I thank Adventure Subaru and Dennis and Dave for helping make our part of the world a better place to exist.
---
Thanks for Rockin' the Block! - Hannah W
Adventure Subaru has been a main sponsor of the annual Block Street Block Party for several years. The 2015 event drew nearly 15,000 visitors! Block Street Block Party Organizer, Hannah Withers writes: Dear Adventure Subaru Team: Thank you so much for supporting another fantastic Block Party! Your participation over the years means so much - we couldn't have done it without you. Thanks again for helping us "Rock the Block" this year!
---
Fur FunFest Pet Expo - Sandra O
Even a wet and chilly 49 degree temperature failed to dampen the spirits of the over 400 animal lovers who showed up at Turpentine Creek Wildlife Refuge on May 17th to attend the first annual Good Shepherd Humane Society Fur FunFest Pet Expo to benefit our nonprofit, no-kill animal shelter. This event would not have been possible without the help of our magnanimous sponsor, Adventure Subaru of Fayetteville. As new members of the Adventure Subaru family of partners, we were overwhelmed by their generosity of time, funding, and spirit. With the assistance of Events Coordinator Susan Idlet, we were able to advertise, promote, and purchase supplies for the Expo. Thanks to Adventure Subaru, guests enjoyed a fun-filled day that included food, games, face painting, temporary tattoos, and wand making for all young fairies and wizards, as well as free entertainment by local musicians. Adventure Subaru rep, Angie Madden, showed up bright and early for the Pet Expo with her family in tow and spent the day mingling and passing out Frisbees to the enthusiastic crowd. The Good Shepherd would like to extend the paw of gratitude to Susan, Angie and all the good folks at Adventure Subaru for making us part of their Love Promise and helping to make our Pet Expo a big success.
---
Picnic on the Farm - Kyra R
A hearty thank you to Adventure Subaru for sponsoring Saturday's Picnic on the Farm! We couldn't have done it without your support and we loved seeing you out there...despite the sweltering heat! Thanks for supporting our work in NWA!
---
Feed Communities Receives $48,023! - Susan I
For the second straight year, Adventure Subaru has presented a five-figure donation to a local charity. The company on Monday presented a check for $48,023 to Feed Fayetteville, a local organization that fights hunger in Fayetteville and the surrounding area. Last year, the company raised over $10,000 for Ozark Literacy Council. The donations were raised are part of Subaru's annual "Share the Love" event, a 43-day initiative which lets each customer who purchases or leases a new Subaru decide which of four national charities would receive a $250 donation from the company. ASPCA, Make-A-Wish, Meals On Wheels Association of America, and National Park Foundation were the national charities selected by Subaru of America this year for their customers to choose from. Last year, however, they added an option for dealerships to select their own local charity as an option, and Adventure Subaru selected Feed Fayetteville. Fayetteville car-buyers overwhelmingly chose to support the local group. "About 70% of the buyers chose to donate to Feed Fayetteville," said marketing manager Susan Idlet. "In fact, out of all the Subaru dealerships in the U.S., and there are some that are much larger than us, we ranked fifth for donations to the local charity." Pictured from left; Matt Dickhut, Tim Hurd, and Don Nelms of Adventure Subaru, Denise Garner of Feed Communities, and Marcus Hall of Adventure Subaru.
---
Back on the Road - Sheri H
At the Northwest Arkansas Women's Shelter we are working to empower families to build lives free of domestic and sexual violence. It takes a lot of community assistance to keep everything running smoothly at a shelter this size. We sheltered 546 people in 2014 and provided assistance to hundreds of others. When our old faithful truck wouldn't start, my first call was to Adventure Subaru in Fayetteville. I knew from bringing my family's Subarus there over the years that the people there, like Clay, were trustworthy and genuinely nice. They agreed to do all the diagnostics and were actually able to get our truck running again for us. We really appreciate having community partners we can count on!
---
United We Dance Social - Joe R
Adventure Subaru was happy to support United We Dance in 2014 - a wonderful community-based dance for adults with disabilities in Northwest Arkansas. This monthly social event invited clients and staff from 12 local agencies, and it was a hit! Adventure Subaru's Service Manager, Bill Durham, provided the sound system and acted as disc jockey. Co-organizers, Barbara Durham and Joe & Hailey Rocko used Subaru's donated funds to pay for the venue rental, t-shirts for the volunteers, and snacks. The dances drew nearly 200 adults with disabilities and their caregivers who enjoyed 2 hours of joyous, carefree dancing every month, from April to October. "Music really breaks all the barriers; it's a universal language that everyone can appreciate," says Bill Durham. "Many people with disabilities have zero inhibitions, and witnessing their natural spontaneity gave us as much pleasure as it did them," says Bill. Adventure Subaru plans to sponsor the 2015 monthly dance series with increased support, and other local groups are also contributing with donations of food, photography, etc. The United We Dance Facebook page has nearly 500 "likes" and word-of-mouth will definitely boost attendance this year!
---
Adventure Subaru Proudly Partners with the Animal League of Washington County - Carmen N
On December 6, 2014, the Animal League of Washington County teamed up with Adventure Subaru for its 3rd annual Adopt-a-Pet event. It was a HUGE SUCCESS! "We anticipated about 15 adoptions and we ended up with 29," says Carmen Nelson, Executive Director. 21 dogs, 7 cats, and a horse found forever homes that day. "Susan with Adventure Subaru is amazing to work with! She coordinated everything from the pictures with Santa to all the advertising - radio, press release, etc.," says Carmen. Adventure Subaru also donated $2,000 to the Animal League and collected a mountain of food and other needed items for the shelter throughout the Share the Love Event.
---
Adventure Subaru becomes top sponsor of Heroes for Kids fundraiser - Jimmie C
My sons, Dimitri and Aleksei, were adopted from Ukraine. Both boys were born with cerebral palsy. I am an avid cyclist, and will never forget the day I was able to purchase equipment to take my boys along for a ride. Dimitri rode a three-wheel recumbent trike next to me, and Aleksei rode in a large special-needs bike trailer behind me! When I explained to Dimitri that not every family can afford this specialized equipment, he came up with the idea to start a charity. Dimitri is a big fan of Subaru cars. My 2008 Impreza is our third Subaru, and he is planning on it being his first car when he gets his driver's license. When we sought sponsors for our first big Heroes for Kids fundraiser, Adventure Subaru was the first place he wanted to visit. When they heard Dimitri explain what Heroes for Kids was for, the only thing they asked was, "How do we become your top sponsor?" For the last two years, their donations have helped us purchase three recumbent trikes for kids with special needs. With Adventure Subaru's help, Dimitri will be able to fulfill his vision: getting kids who cannot ride conventional bicycles out to ride with their family and friends.
---
Share the Love Campaign continues longtime partnership - Margot J
Adventure Subaru is always giving to our community and I believe they do it not only because it's good for business, but because they truly believe it's the right thing to do. Adventure Subaru is a strong supporter of the Ozark Literacy Council and we are so honored to be their choice as the local charity in this year's Share the Love campaign. We worked closely with them throughout the campaign and witnessed the dealership's core values which include building community relationships and acting as stewards of the local community. Their sponsorships, outreach and community support go above and beyond what anyone might expect of a dealership. It has been very apparent that the folks at Adventure Subaru care deeply about their community and they are in it to share the love with everyone! Margot Jackson, Executive Director
---
Summer Reading Program with Fayettville Public Library - Lolly G
Summer Reading Program Every year our wonderful Fayetteville Public Library has a Summer Reading Program for kids. Kids are given prizes for completing their reading logs. Adventure Subaru has donated $100 bills as prizes for the last several years. (kids LOVE this prize!) Thank you for your continued support of this program. We rely heavily on local businesses to donate reading incentives and grand prizes. It is the community support that helps make our program a success. Included in this program are weekly concerts/entertainment for the kids. The attached photo shows a typical crowd from a June 5th performance of The Pop Ups.
---
Backyard picnic party benefits Spay Arkansas - Romaine K
Spay Arkansas is a grateful community partner with Adventure Subaru of Fayetteville as we strive to make Northwest Arkansas a place where there are No More Homeless Animals. They helped us host a community celebration to honor the thousands of people in our area who have decided to make the right choice and have their pets altered. Susan Idlet, marketing manager, gave us all the tools necessary to make the event happen. We held a backyard picnic party with games, a video arcade, live music and food, all courtesy of Adventure Subaru. Donors, volunteers, staff and clients attended and came away with a renewed spirit to continue our mission. Thank you Susan and Adventure Subaru for helping us make Northwest Arkansas a place where all animals have a home.
---
Adventure Subaru - a true community partner - Ali W
In addition to being a local event sponsor and sustainability leader, Adventure Subaru is also an active member of the Northwest Arkansas community. As a Community Organizer with Pack Rat Outdoor Center, I have had the pleasure of working with them for years. They attend our events, contribute to our fundraising efforts, and are constantly striving to collaborate with outdoor enthusiasts and groups. They have worked with us on everything from climbing and boating events to youth adventure days. Outside of my role with Pack Rat, I have worked with Adventure Subaru as a volunteer and consultant with many other local organizations and businesses (e.g., Cow Paddy Foundation, Fayetteville Natural Heritage Association). They go above and beyond to not only contribute monetarily to causes, but also to show up and help contribute to the event's success. We are lucky to have the coolest car company and the best local dealer all in the same package.
---
Two adoption events lead to amazing results - Carmen N
The Animal League of Washington County has had the privilege of working with Adventure Subaru on two adoption events. I personally worked with Susan Idlet to plan and execute the events, which were well organized and ran smoothly each year. The experience was amazing! The whole team was very supportive and involved and the event resulted in many adoptions. The dealership also held a pet food drive for the Washington County Animal Shelter and our Hungry Hearts Pet Food Bank. The entire Adventure Subaru team makes us feel welcome and has been very helpful; Ms. Idlet even accompanied me on several live radio station interviews. Our partnership with Adventure Subaru has helped us save the lives of many animals.
---
Adventure Subaru & Tri Cycle Farms fight hunger and food insecurity - Don B
Tri Cycle Farms began three years ago when a friend and I, who were both food-insecure and underemployed, decided to grow a garden in a backyard. With a coalition of community volunteers and neighbors, a 'farm-raising' movement began. One of those neighbors was Adventure Subaru. An endeavor that started with two food-insecure individuals has grown to over 1000 engaged community members. The great folks at Adventure Subaru took a leap of faith in 2013 when they agreed to sponsor Tri Cycle's two main events: Building a Food City & Sustainable Communities, a food systems panel discussion, and the Pesto Fest, our primary fund raiser. Our success and growth would have been infinitely more challenging without this sponsorship. It accounted for 40 percent of our budget and another 30 percent that we raised at the Pesto Fest, making our neighbors at Adventure Subaru directly responsible for 70 percent of our overall 2013 budget. By giving so generously, Adventure is setting an example for other companies in our community. We are excited about our continued collaboration of growing community through soil. Sincerely, Don Bennet; Founder/Director; Tri Cycle Farms
---