The 2021 Subaru Love Promise Customer and Community Commitment Award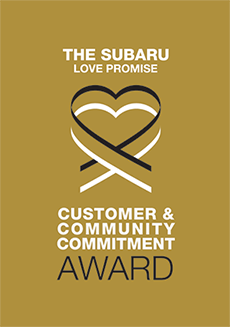 We've been nationally recognized for our dedication to our customers, our community, and the Subaru Love Promise.
We're honored to receive the 2021 Subaru Love Promise Customer and Community Commitment Award. This award nationally recognizes elite Subaru retailers who provide an exceptional customer experience at every interaction with Subaru. These retailers have also demonstrated an outstanding commitment to supporting passions and causes in their local communities in important areas such as the environment, community, health, education, and pets.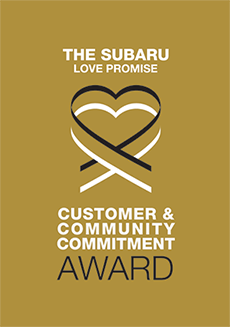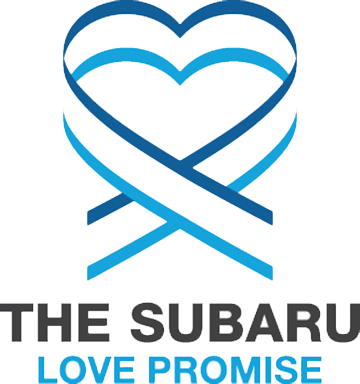 What is the Subaru Love Promise?
Subaru and our retailers believe in making the world a better place and the Subaru Love Promise is our vision of respecting all people. This is our commitment to show love and respect to our customers and to work to make a positive impact in the world.
How is Adventure Subaru dedicated locally to the Love Promise?
At Adventure Subaru, our Love Promise to the Northwest Arkansas area can be in seen in our partnerships with local nonprofits and charities. We're grateful for the opportunity, not only to be a part of the Northwest Arkansas community, but to serve it as well.
Humane Society of the Ozarks, Big Paws of the Ozarks, Animal League of Washington Co
Botanical Gardens of the Ozarks , Fayetteville Parks and Recreation , Pack Rat Outdoor Center, Apple Seeds, Inc. , Ozark Natural Science Center , NWA Land Trust
Ozark Literacy Council, Fayetteville Public Schools, Pilot Arts , Single Parent Scholarship Fund , Champions for Kids , Spark Foundation
Ozark Off-Road Cyclists, Fayetteville First Thursday, Arkansas Advocates for Children and Families , Meals on Wheels , Roots Meals for Musicians , Restore Humanity , Make a Wish , Hogeye Marathon , Running of the Hogs , Fayetteville Senior Center
Highlands Oncology, Hope Cancer Resources, Essentials Outreach
Love Promise Stories from Adventure Subaru
Subaru and Adventure Subaru believe in making a positive impact on the communities in which we live and work. We uphold that belief through our Love Promise Community Commitment. Every month, we select inspiring stories from customers and partners from around our area who strive to support our collective commitment and feature them here
Adventure Gets a Little Free Library! - Travis S
August is a special time for Adventure Subaru. We partner with the Ozarks Literacy Council. Ozarks Literacy has been a pillar in our community for tutoring students and adults for over 55 years. They teach a handful of students and hundreds of adults each year. They help clients reach their goals such as getting a better job, achieving financial security for their family, helping their children with their homework, increasing community involvement, and obtaining U.S. citizenship. In years past, we held a huge book sale at the dealership, with proceeds benefiting OLC. The pandemic changed all that, and in lieu of a sale, team members from Adventure Subaru stocked Little Free Libraries in our area with a variety of childrens, pre-teen, teen, and adult books. Little Free Libraries are book sharing boxes that serve their area communities with free books. Adventure Subaru saw the opportunity to create and install our own Little Free Library at the dealership. The Little Free Library is stocked and easily accessible to all. Not only does this partnership with Little Free Library coincide with Subaru Loves Learning, but upcycling an existing item, like the old newspaper stand we got from our friends at the Star Shopper, upholds our dedication to Subaru Loves the Earth. Choosing to repurpose an existing item rather than buying new helps the planet- and we're happy to do our part! The library has already been a big hit with our customers, and gives them a chance to get a new book when they visit for sales or service, or to pass along a favorite read of their own.
---
Subaru and Ozarks Literacy Love Little Libraries! - Patty S
Subaru and Ozark Literacy Council love literacy and little libraries! In August, we teamed up to share books with communities throughout Northwest Arkansas. Ozark Literacy Council board members and Adventure Subaru staff members drove around (in great new Subarus) with books donated to us by community members. We shared gently used books, filling little libraries with books for adults and children, providing free books to lots of people and spreading some joy. At Ozark Literacy Council, we work to ensure all people possess the literacy and community building skills needed to fully contribute and connect to the world by providing free English lessons and resources to any adult in our county who needs to strengthen their skills. For example, last year, we worked with an immigrant who came to the United States from Myanmar with her family. She began learning English to aid in her job search which was difficult during the pandemic. In July 2021, after months of studying English with us, she finally landed a part-time job at a national grocery chain AND she obtained a driver's license. In September, she will start studying at the local community college. We love Subaru and learning!
---
Adventure Helps with the Essentials - Cristie G
We are grateful that Adventure Subaru selected Essentials Outreach as one of their "Share the Love" recipients. Essentials Outreach began in 2015 because of an awareness by a group of individuals that families in rural NWA were lacking essential health and hygiene items for their families. These products might be unattainable for individuals and families living at or near poverty levels. Working with city leaders, school principals and other community members we were able to set up distribution centers for our outreaches and currently have 4 outreach locations in Gravette, Greenland, Lincoln, and Pea Ridge. Essentials Outreach distributes toilet paper, toothpaste, toothbrushes, shampoo, dish detergent, laundry detergent, razors, shaving cream, deodorant, and bar soap. These are all large sizes with the goal of a family not needing additional items until the following monthly distribution. Essentials Outreach serve 4,000 individuals in 2020. Adventure Subaru hosted a product drive of our 10 essential items. With the support of Adventure Subaru, Essentials Outreach will be able to continue providing assistance to our rural neighbors. Thank you for being a partner and "sharing the love" with us!`
---
Share the Love and Single Parent Scholarship Fund - Tyler C
A recipient story and how the support of the Share the Love event impacts our clients. I remember the day I realized that I had to do something. It was a Sunday morning in April 2019. We weren't hungry, we had a home, but it hit me that what we didn't have was a future. I called Northark College the next morning. From my very first interview for the Single Parent Scholarship, I felt the warmth and their commitment to helping people just like me in their journey to make a better life for their family. The Single Parent Scholarship has helped me in sooo many ways. I didn't even have a computer before I decided to return to school. The scholarship has allowed me to work fewer hours so that I can dedicate more time to Avery and to do what it takes to do well in my classes. The level of support given by everyone at SPSF NWA has been unbelievable. Somehow, they know when we are stressed and overwhelmed beyond comprehension, and up pops an email saying, "hang in there" "you got this." The encouragement is invaluable. It's been especially important during Covid. Covid has sort of put a cloud over everything, so Avery and I have tried to keep as much normalcy as possible. School work is different, everything is primarily on the computer now, but we're staying focused and motivated. It's funny, I never imagined that Avery and I would be stressing over and doing homework together. He sees how much effort and hard work I put into my schoolwork and he's right there with me making the grade. He sees firsthand the importance of education and how it will ensure a future for both of us, and even though he's only 13, his wheels are already turning thinking about what he wants to do when he goes to college. We both see that light at the end of the tunnel. At some point, we will be able to move to the Rogers, Bentonville area where there are many more opportunities available to us. I'm so thankful to have this opportunity to be an example for my son, and to show him how important education, hard work and dedication are in making a life for yourself. This journey has been a very difficult one, but with the support and dedication of SPSF NWA, I know that I will succeed.
---
Rooting for Nutrition & Health with Apple Seeds - Tanya C
Apple Seeds is grateful for Adventure Subaru's Share the Love program. Thank you to the shoppers who choose Apple Seeds! The funds received are going to Plant--Grow--Harvest--Donate fresh nutritious produce to kids and their families that need it most. Apple Seed's food donation and outreach began with COVID in 2020. When many children no longer had access to food through their schools, Apple Seeds partnered with their schools and area outreach services to donate and deliver nutritious fresh produce grown Apple Seeds' Teaching Farm in Fayetteville. Outreach spanned Washington & Benton counties and continues today. Because the need still remains. Apple Seeds is a Teaching Farm & Kitchen that connects children with where their food comes from through a farm-to-table experience. Their mission is to inspire healthy living through garden-based education, sparking a life-long love of fresh foods that are good for them. Every lesson, weather at the teaching farm or in the classroom brings a message of nutrition and health. All are conducted in a very positive and encouraging way, removing fear and building a willingness to try new good-for-you foods. Over the past year Apple Seeds has expanded their mission to include donation of thousands of pounds of fresh vegetables and fruits grown at their farm to children and their families that need it most. In order to help that produce be used and loved, Apple Seeds has developed kid-tested and approved simple recipes along with short 3-4 minute videos (accessible on YouTube) to ensure recipients get a great introduction to seasonal fresh produce. There has never been a more important time to educate and reinforce habits for good nutrition and health. We are making area youth a priority with the help of Adventure Subaru.
---
Adventure Subaru Delivers Meals on Wheels! - Lela H
In the spring of 2021, team members from Adventure Subaru committed to an eight week route of Meals on Wheels delivery. Every Friday for a couple of hours, members of the Subaru marketing team deliver meals to clients in our area. The local Meals on Wheels chapter is housed at the Fayetteville Senior Center. Adventure Subaru has been a long time supporter of the Senior Center, as well as Meals on Wheels. Delivering meals to seniors and adults who may not be able to provide nutritious meals for themselves is both an eye opening and humbling experience. As the delivery driver for Meals on Wheels, you may be the only person some of the clients see all week. The brief visits serve their purpose as not only a meal delivery service, but also as a wellness check. Many clients are grateful for the food and human interaction, but so are the drivers. It's really special to connect with people from all walks of life and get out of your comfort zone to help others.
---
Adventure Subaru supports Meals for Musicians - Jerrmy G
Fayetteville Roots distributes weekly food care packages to musicians in the Northwest Arkansas area impacted by Covid-19. Each care package represents approximately $60+ that a musician doesn't have to spend on groceries, stretching income during uncertain times. The meals program fulfills the non-profit mission of connecting our community through music and food. Through the support by donations from the community, including Adventure Subaru, Roots provided food to well over 130 NWA musician households. We are grateful for the continued support of organizations like Adventure Subaru that recognize the ongoing need to support members of our community.
---
Subaru Gives Warmth- 7Hills Homeless Center - Danielle D
As temperatures drop in the Northwest Arkansas region, the need for warmer attire and blankets for those in need in our area increases. The local homeless shelter and day center, 7Hills, works around the clock to ensure that needs are met for the most vulnerable members of our community. In early November, Subaru of America launched the Subaru Loves to Help campaign. Part of that is their partnership with local retailers. Through this partnership, Subaru of America provided eighty blankets to be donated to the local homeless shelter. Adventure Subaru jumped right in at the opportunity to help and facilitated the donation. This was also a great opportunity for staff members to help out, and help out they did! Adventure had eight staff members take time out of their day to do good in their community. We are so grateful for Subaru of America and Adventure Subaru for recognizing the needs of others.
---
Make a Dogs Day - Carmen N
Great news for Miss Betty, she was the recipient of Make a Dogs Day by Adventure Subaru! Betty was rescued from a local shelter, she is heart worm positive. She has been in a loving foster home under the Animal League of Washington County. Miss Betty has started her heart worm treatment, which is very expensive, and the treatment takes 6 months. We got the call from Adventure Subaru that they would like to sponsor Miss Betty's treatment and honor her for Make a Dogs Day! We were overwhelmed with joy and so appreciative of the support of the Adventure Subaru Team! We are honored to be a partner with Adventure Subaru, they have supported many of our fundraising events and also have hosted many adoption events over the years! For Miss Betty, not only did she receive a sponsorship for her treatment, her Foster family finalized her adoption at the check presentation! What an awesome day for Miss Betty!! Thank you, Adventure Subaru, your philanthropy in the community is like no other! Carmen Nelson Animal League of Washington County Director
---
Terracycle: Small Choices with Big Impact - Faebyan W
Pack Rat Outdoor Center is a small retail business specializing in helping our neighbors in Northwest Arkansas and abroad adventure in the outdoors. Along with offering the "best selection and most experience," we take our impact as a retail business just as seriously as our love for taking every opportunity to protect our planet. Our core company values demonstrate through action that respecting our planet and community means we ensure responsible business practices not only through social equality, energy conservation, and community outreach, but through meticulous waste diversion practices. We have always greatly admired Subaru's determination to be a zero waste business and also aspire to uphold zero waste business practices. Since 2014 we have recycled difficult to recycle items through Terracycle (initially a program sponsored by Clif Bar for items such as energy bar wrappers). We were thrilled to partner with Adventure Subaru in 2018 to expand this community opportunity to recycle even more waste that is normally "fed" to a landfill. Offering Terracycle boxes sponsored by Adventure Subaru to recycle food wrappers and disposable cups, lids, and straws at our shop has been an important resource to the community and our staff. Not only do these tall, green boxes offer a way to recycle, but also initiate a conversation about where most waste actually goes when it goes "away." Collectively, the Terracycle boxes at our shop and Adventure Subaru have gathered and transformed over 1,300 pounds of trash into park benches and picnic tables. We agree with Primatologist and Anthropologist, Jane Goodall, in that every action counts towards the bigger picture and each individual can make a difference with each choice made-no matter how small. We are encouraged daily to make the seemingly small choices of diverting a single food wrapper, single disposable cup, or single straw from the landfill with the appreciation of knowing that each "single" action has the capacity to accumulate into big change. Every landfill was once a wild space to play, a place to build homes, or a place to grow food and this understanding keeps us mindful of our "small" yet hugely impactful choices. It is a privilege to protect our precious green spaces in partnership with Adventure Subaru. We offer our deepest gratitude for their continued commitment to our community and world.
---