The 2021 Subaru Love Promise Customer and Community Commitment Award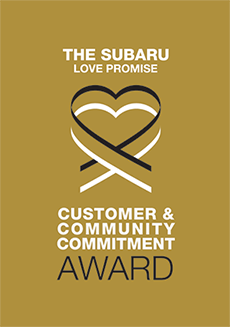 We've been nationally recognized for our dedication to our customers, our community, and the Subaru Love Promise.
We're honored to receive the 2021 Subaru Love Promise Customer and Community Commitment Award. This award nationally recognizes elite Subaru retailers who provide an exceptional customer experience at every interaction with Subaru. These retailers have also demonstrated an outstanding commitment to supporting passions and causes in their local communities in important areas such as the environment, community, health, education, and pets.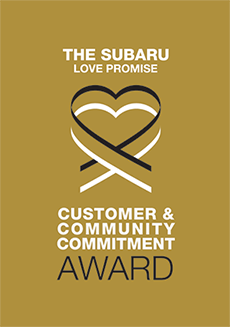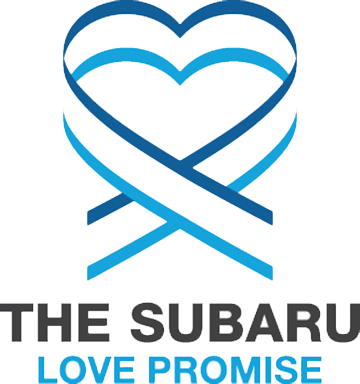 What is the Subaru Love Promise?
Subaru and our retailers believe in making the world a better place and the Subaru Love Promise is our vision of respecting all people. This is our commitment to show love and respect to our customers and to work to make a positive impact in the world.
How is Adventure Subaru dedicated locally to the Love Promise?
At Adventure Subaru, our Love Promise to the Northwest Arkansas area can be in seen in our partnerships with local nonprofits and charities. We're grateful for the opportunity, not only to be a part of the Northwest Arkansas community, but to serve it as well.
Humane Society of the Ozarks, Big Paws of the Ozarks, Animal League of Washington Co
Botanical Gardens of the Ozarks , Fayetteville Parks and Recreation , Pack Rat Outdoor Center, Apple Seeds, Inc. , Ozark Natural Science Center , NWA Land Trust
Ozark Literacy Council, Fayetteville Public Schools, Pilot Arts , Single Parent Scholarship Fund , Champions for Kids , Spark Foundation
Ozark Off-Road Cyclists, Fayetteville First Thursday, Arkansas Advocates for Children and Families , Meals on Wheels , Roots Meals for Musicians , Restore Humanity , Make a Wish , Hogeye Marathon , Running of the Hogs , Fayetteville Senior Center
Highlands Oncology, Hope Cancer Resources, Essentials Outreach
Love Promise Stories from Adventure Subaru
Subaru and Adventure Subaru believe in making a positive impact on the communities in which we live and work. We uphold that belief through our Love Promise Community Commitment. Every month, we select inspiring stories from customers and partners from around our area who strive to support our collective commitment and feature them here
The Service Advisor That Went Above & Beyond - Jake W
Late one Friday afternoon, a customer came in for a standard service. The customer had requested no car wash with their service. The customer lives on a dirt road, and in Subaru fashion, their Subaru was dirty. And, to avoid scratching, it would require a hand wash to get it clean. In the rush to get the customer their Subaru back after service, it was run through the automatic car wash- not good! The Crosstrek was covered in swirl marks and scratches. Immediately seeing what went wrong with the customer's vehicle, Service Advisor Andrew took charge. He scheduled for the customer to have a wash, buff, wax and full detail, plus ceramaseal– all complimentary. Andrew also ensured the customer had a set of all-weather mats (coincidentally, the customer had those on their wishlist). Andrew went above and beyond to not only fix the error we made, but to make it right and ensure the customer was happy.
---
Stranded Hours from Home- Subaru Showed Me Love! - Richard F
I am so grateful from the bottom of my heart to Adventure Subaru. I was towed in by a non-Subaru affiliated tow company for an issue while traveling back to Ohio with my camper. While I was at Adventure Subaru I found out I was improperly towed by the tow company and significant damage was done to my vehicle. The dealership offered up evidence from recording devices in order to help. But it didn't stop with just that. Adventure Subaru helped me and my two dogs with basic accommodations for about a week while I was stranded. My Service Advisor Will and his team offered emotional support while helping walk through some possible avenues to get everyone home in a safe and timely manner. Alongside emotional support, some of my basic needs were met, too. My camper runs on a battery backup, and that needs to be charged daily. Every morning while I was there, they gave me an area to charge my battery so I could have power to my camper. I was able to keep my water bottles filled by using their filtered water. Coffee too. And, Will let me into the employee bathrooms so I could shower. It's amazing how much better you can feel after some of your basic needs are met. The dealership did not push me to a quick resolve on my vehicle and travel trailer that was parked on their property. I was looking at an expensive tow bill to get home safely with my pets. I determined that purchasing a new vehicle was the best option to get home while towing my camper. Sales consultants Chris and Elmer were very patient and worked with me for over 5 hours, but it didn't stop there either. I now have a new-to-me vehicle with an extended warranty to take the worry out of everything. Adventure Subaru even offered continued assistance to recoup losses from damages on my car I had to let go of due to it being damaged. I can tell you this much... My experience came with love and care from all the staff. I will try to keep buying vehicles from them and whenever feasible, have them do maintenance and repairs on my vehicles. They are a God's send and doing God's work! Thank you everyone at the dealership, keep doing what you're doing. Keep giving the hope this country and world needs which I know you will! I will definitely be keeping you in my prayers and telling of your good deeds for years to come! Thank you from the bottom of my heart, Richard Farmer, Ohio.
---
Subaru Tech Service - Pat C
I have been coming to Adventure Subaru since 2018 when I moved from Illinois to Arkansas. In Illinois I had a personal mechanic and have heard horror stories of dealership services. I have to say Jake and his staff has proved this incorrect for me. They have always taken care of my concerns, put up with my teasing, and even used my dog Annie in one of your promotions. What impresses me most is how the staff takes ownership. Everyone makes a mistake or forgets something, that's human nature. It is how it is dealt with afterwards. While it doesn't happen often it is nice to know Jake and his team will make it right. Thanks Jake and staff for everything you do.
---
Big Paws and Big Hearts - Kayla M
Big Paws has had a partnership with Adventure Subaru for several years, but this year really takes the cake! Big Paws is a foster-based dog rescue located in Northwest Arkansas. We rescue, rehabilitate, and rehome dogs in our community. And, we couldn't do it without the support of the community and organizations like Adventure Subaru. During Subaru Loves Pets month, 26 dogs were adopted and now are in their forever homes. We teamed up with Adventure Subaru and Ozark Natural Foods for a pet adoption event that had a great turnout. Part of being a non-profit is relying on donations, and the community really showed up. Not only did you all help cover the adoption costs for new parents, but Adventure Subaru hosted a donation drive all month long. We filled an entire SUV full of dog food, dog beds, leashes, collars, toys, and other essential items. These items are essential to our daily operations. From the bottom of our hearts, thank you Adventure Subaru.
---
#Make a Dogs Day - Carnen N
In early October 2021, we received a call from a shelter about this sweet dog, that was in dire need of medical treatment. We sprang into action, and we received "Ella" from the Pine Bluff Shelter. Ella was covered in mange, had little to no hair. Her skin was red and inflamed. Ella also tested positive for heart worm disease, which is very costly to treat and time extensive. Great news soon came....Adventure Subaru contacted us and had selected Ella as a recipient of their Make a Dogs Day campaign! This was such a blessing to receive the funds to help care for Ella's medical treatments! Ella continues to improve each day, and is in a wonderful foster home with one of the veterinarian's from Wedington Animal Hospital! Many Thanks to the Adventure Subaru Team!! You really did make Ella's day!!
---
With Gratitude, Thank You for the Gift of Warmth - Brenda M
I just received my Subaru Loves to Care blanket from the Leukemia and Lymphoma Society. Thank you! It's so soft, warm, long, pretty, and it comes with a carrying bag! It's just perfect. Your caring will truly be warmly remembered.
---
Adventure Gets a Little Free Library! - Travis S
August is a special time for Adventure Subaru. We partner with the Ozarks Literacy Council. Ozarks Literacy has been a pillar in our community for tutoring students and adults for over 55 years. They teach a handful of students and hundreds of adults each year. They help clients reach their goals such as getting a better job, achieving financial security for their family, helping their children with their homework, increasing community involvement, and obtaining U.S. citizenship. In years past, we held a huge book sale at the dealership, with proceeds benefiting OLC. The pandemic changed all that, and in lieu of a sale, team members from Adventure Subaru stocked Little Free Libraries in our area with a variety of childrens, pre-teen, teen, and adult books. Little Free Libraries are book sharing boxes that serve their area communities with free books. Adventure Subaru saw the opportunity to create and install our own Little Free Library at the dealership. The Little Free Library is stocked and easily accessible to all. Not only does this partnership with Little Free Library coincide with Subaru Loves Learning, but upcycling an existing item, like the old newspaper stand we got from our friends at the Star Shopper, upholds our dedication to Subaru Loves the Earth. Choosing to repurpose an existing item rather than buying new helps the planet- and we're happy to do our part! The library has already been a big hit with our customers, and gives them a chance to get a new book when they visit for sales or service, or to pass along a favorite read of their own.
---
Subaru and Ozarks Literacy Love Little Libraries! - Patty S
Subaru and Ozark Literacy Council love literacy and little libraries! In August, we teamed up to share books with communities throughout Northwest Arkansas. Ozark Literacy Council board members and Adventure Subaru staff members drove around (in great new Subarus) with books donated to us by community members. We shared gently used books, filling little libraries with books for adults and children, providing free books to lots of people and spreading some joy. At Ozark Literacy Council, we work to ensure all people possess the literacy and community building skills needed to fully contribute and connect to the world by providing free English lessons and resources to any adult in our county who needs to strengthen their skills. For example, last year, we worked with an immigrant who came to the United States from Myanmar with her family. She began learning English to aid in her job search which was difficult during the pandemic. In July 2021, after months of studying English with us, she finally landed a part-time job at a national grocery chain AND she obtained a driver's license. In September, she will start studying at the local community college. We love Subaru and learning!
---
Adventure Helps with the Essentials - Cristie G
We are grateful that Adventure Subaru selected Essentials Outreach as one of their "Share the Love" recipients. Essentials Outreach began in 2015 because of an awareness by a group of individuals that families in rural NWA were lacking essential health and hygiene items for their families. These products might be unattainable for individuals and families living at or near poverty levels. Working with city leaders, school principals and other community members we were able to set up distribution centers for our outreaches and currently have 4 outreach locations in Gravette, Greenland, Lincoln, and Pea Ridge. Essentials Outreach distributes toilet paper, toothpaste, toothbrushes, shampoo, dish detergent, laundry detergent, razors, shaving cream, deodorant, and bar soap. These are all large sizes with the goal of a family not needing additional items until the following monthly distribution. Essentials Outreach serve 4,000 individuals in 2020. Adventure Subaru hosted a product drive of our 10 essential items. With the support of Adventure Subaru, Essentials Outreach will be able to continue providing assistance to our rural neighbors. Thank you for being a partner and "sharing the love" with us!`
---
Share the Love and Single Parent Scholarship Fund - Tyler C
A recipient story and how the support of the Share the Love event impacts our clients. I remember the day I realized that I had to do something. It was a Sunday morning in April 2019. We weren't hungry, we had a home, but it hit me that what we didn't have was a future. I called Northark College the next morning. From my very first interview for the Single Parent Scholarship, I felt the warmth and their commitment to helping people just like me in their journey to make a better life for their family. The Single Parent Scholarship has helped me in sooo many ways. I didn't even have a computer before I decided to return to school. The scholarship has allowed me to work fewer hours so that I can dedicate more time to Avery and to do what it takes to do well in my classes. The level of support given by everyone at SPSF NWA has been unbelievable. Somehow, they know when we are stressed and overwhelmed beyond comprehension, and up pops an email saying, "hang in there" "you got this." The encouragement is invaluable. It's been especially important during Covid. Covid has sort of put a cloud over everything, so Avery and I have tried to keep as much normalcy as possible. School work is different, everything is primarily on the computer now, but we're staying focused and motivated. It's funny, I never imagined that Avery and I would be stressing over and doing homework together. He sees how much effort and hard work I put into my schoolwork and he's right there with me making the grade. He sees firsthand the importance of education and how it will ensure a future for both of us, and even though he's only 13, his wheels are already turning thinking about what he wants to do when he goes to college. We both see that light at the end of the tunnel. At some point, we will be able to move to the Rogers, Bentonville area where there are many more opportunities available to us. I'm so thankful to have this opportunity to be an example for my son, and to show him how important education, hard work and dedication are in making a life for yourself. This journey has been a very difficult one, but with the support and dedication of SPSF NWA, I know that I will succeed.
---