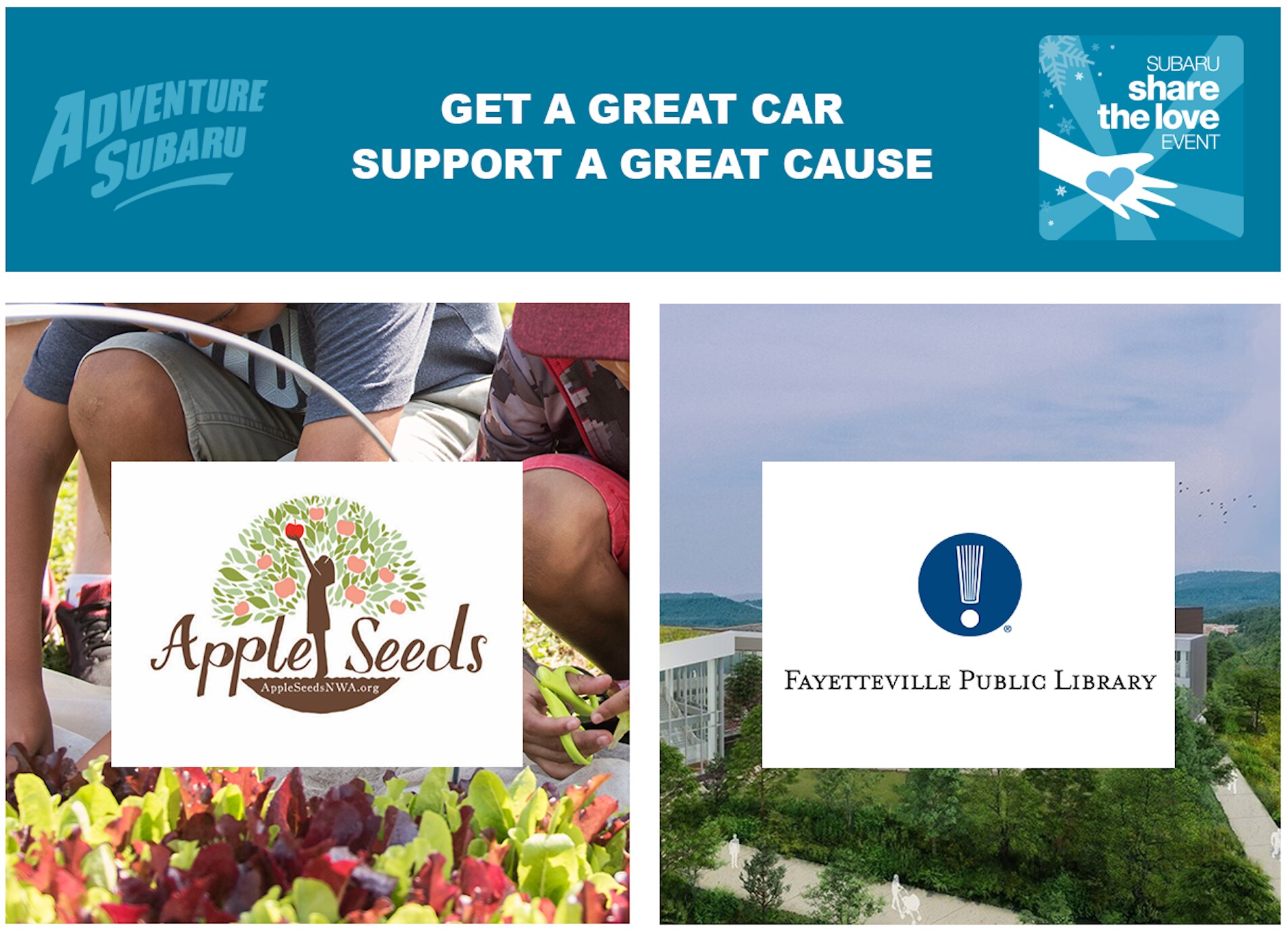 Over the last 11 years, Subaru's annual Share the Love event has been able to donate more than $145 million to charities nationwide. At Adventure Subaru of Fayetteville, Arkansas, we love to work with our hometown charities. Purchase or lease a new Subaru now through January 2, 2020, and Subaru will donate $250 to the charity of your choice. On top of that, Adventure Subaru will donate an additional $50 to our hometown charities for every new vehicle sold or leased! New this year, when you come in for certain services for your Subaru, $5 will be donated to a hometown charity of your choice. Together, we are making a difference in our community. We are proud of our partnerships with local nonprofits and charities that share our interest in providing education and enrichment to the NWA community. Meet the hometown charities we are partnering with:
APPLE SEEDS INC.
FAYETTEVILLE, AR
The key mission for Apple Seeds is to create programs that help educate children about healthy food, and increase access to those healthy foods. The key to this approach is making learning about healthy food a fun activity for students. Apple Seeds accomplishes this goal through educational programs like their Teaching Farm and Farm Lab, and they have partnered with more than 80 local schools and agencies. It is their goal to provide education about and access to healthy food for young students. What a wonderful way to educate the next generation about healthy lifestyles and choices.
FAYETTEVILLE PUBLIC LIBRARY
FAYETTEVILLE, AR
One essential factor for a thriving community is education for all ages, and reading is a foundation for learning. The local public library is the important key to that goal. The Fayetteville Public Library provides numerous free programs, resources and services to the children and adults of all ages. In the Fayetteville community, library use, per capita, doubles the national average. Patrons' needs are growing. To meet this demand, additional space is needed. Therefore, the Beyond Words capital campaign was put into motion to raise funds for this project. The new Fayetteville Public Library will be the first of its kind, with 82,500 additional square feet of space, setting the stage for innovative programming and services.
Adventure Subaru of Fayetteville is proud to be dedicated to community service and supporting our local communities. Beyond our commitment to customer service, we believe in strong ties with our Northwest Arkansas communities. So be part of making a difference! Come by Adventure Subaru of Fayetteville during our Share the Love event and let us serve you and your vehicle needs.

CLICK HERE TO VIEW MORE INFORMATION ABOUT THE SHARE THE LOVE EVENT