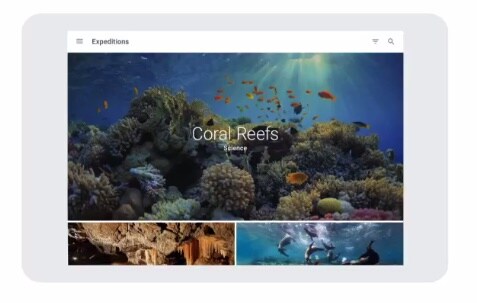 Google is known for developing interesting and exciting projects, and Subaru is known for developing vehicles that can go to interesting and exciting places. So it makes perfect sense that the two would team up on a project together. Subaru and Google are joining forces on something called Expeditions Pioneer Program.
The Expeditions Pioneer Program is designed to help teachers take students to some pretty remarkable places. Students will get to spend some time on the ocean floor, or maybe go for a stroll around Mars. As capable as Subarus are, they certainly can't transport a classroom full of students through outer space or down to the bottom of the sea. So how will the Expeditions program take students to these amazing places?

Expeditions is a new virtual reality platform for the classroom which uses low-tech devices to experience guided explorations of online content.
Google is making physical field trips a thing of the past, as the Expeditions program will be taking kids on virtual field trips across the world and beyond. There are currently over 100 different journeys that teachers can choose from.
The Expeditions Pioneer Program is starting off in 5 different countries. The United States, Australia, New Zealand, and Brazil will be the first to experience the Expeditions program. The best part about Expeditions is the fact that there is no charge or cost for teachers and their classes to get involved with the program.
So how does Subaru play into all of this? To be fair, Google Expeditions exists independently of Subaru, but Subaru is the program's official vehicle provider. Since Expedition teams will have to drive to each school, they of course need a way to get there, and Subaru was more than happy to step in.
Subaru is of course known for its dedication to the environment and pets, but Subaru is also dedicated to education. Expedition is a great program that will help keep learning fun and engaging. All that's left is deciding what they should call the Expedition vehicles. Maybe the Subagoogle? Or maybe the Googleru?