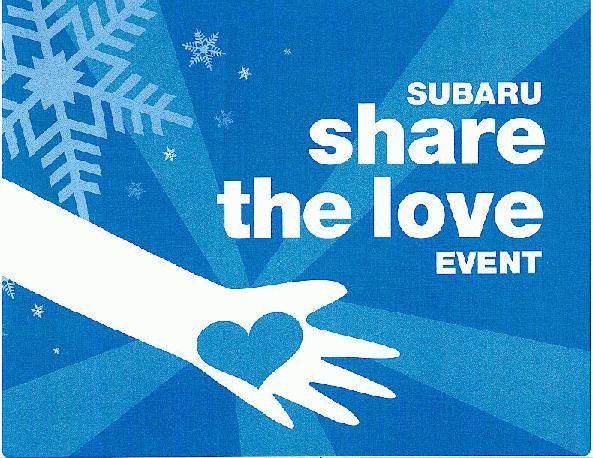 If you read that title and thought to yourself, "But I thought sharing love was ungoverned by any specific time constraints?" as many of you undoubtedly thought, here's a little clarification. It's almost time for Subaru's annual Share the Love Event!
Next month will mark the beginning of Subaru's 8th annual Share the Love event. This event is more than just a great time to buy a Subaru vehicle; it's also a great time to help charities on a national and local level.
Every year, there are people that wait to buy until November to buy their Subaru. Why is that? Because for every Subaru vehicle that is sold or lease during the Share the Love event, Subaru will donate $250 dollars to a charity of the customer's choosing.
Last year, the charities that benefited from the Share the Love included the American Society for the Prevention of Cruelty to Animals, the Make-A-Wish Foundation, Meals on Wheels Association of America, and the National Park Foundation. Each year, Subaru dealerships select local charities in addition to the national charities chosen by Subaru of America. In the past, Adventure Subaru has supported local charities like Feed Communities and the Ozark Literacy Council.
Subaru has helped raise over $50 million for charities since starting the Share the Love Program seven years ago. The goal for this year's 8th annual Share the Love event is an additional $15 million dollars.
The event starts November 19, 2015 and goes through January 2nd, 2016. Any Subaru vehicle sold or leased from Adventure Subaru or any other Subaru dealership will result in a $250 dollar donation to a charity of the customer's choice. If you've been thinking about getting a new vehicle, now is the time. If you're in the market for a new vehicle, and are looking to support a charity, stop by Adventure Subaru during the Share the Love event!