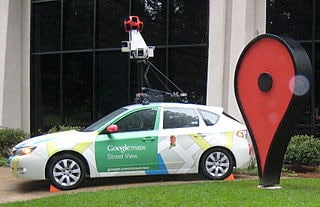 Did you know that the Google Street View fleet includes a Subaru Impreza? Google drives a Subaru. While we're not sure exactly what drove them to pick a Subaru over countless other vehicles, we're proud they did. Subarus are perfect for trekking across the country in search of adventure (or data, as the case may be).
Subarus are dependable and great for exploring all the world has to offer, especially when you don't know what type of terrain you'll be traveling on. Google has mapped all kinds of places with their Subaru as well as a bunch of other contraptions they've dreamed up for the task. But what's clear is that while Google has to dream up a solution for pedestrian zones, they don't have to dream up a solution for the best vehicle for on and off-road driving.
With the Symmeterical AWD system, Subarus are capable of handling roads of any condition, rainy, snowy, sleety, or muddy. Google depends on things working correctly all the time to be able to map our world so they turned to Subaru to do that. Google also needs to bring lots of equipment with them to be able to create their maps, so they chose a Subaru that has lots of interior room and yet is still able to navigate through cities and other tight areas. While an SUV might have provided more interior space, Google chose a Subaru because it does the job just right with great mileage and control.
If you want to have the same results, look no further than a Subaru Impreza. While we can't help you map out the whole country, street by street, we can get you there.