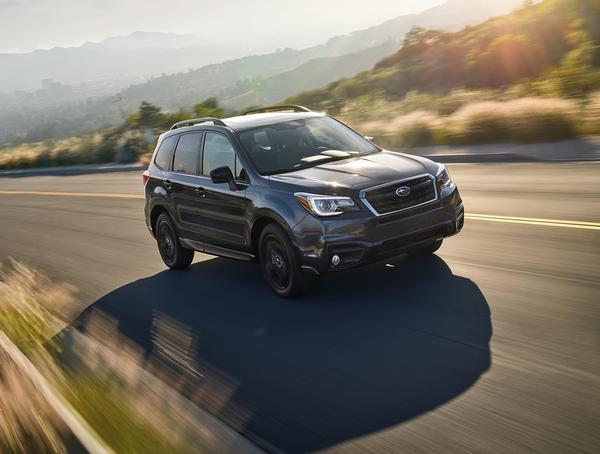 Affordable. Safe. Durable. Versatile. The all-new 2018 Subaru Forester is the best compact SUV on the market. The 2018 Forester has a luxurious interior, featuring only the highest-quality materials and the latest technology, as well a capable frame and stellar performance. The Forester is one of the most durable cars on the market as well. Luckily for you, Adventure Subaru in Fayetteville, Arkansas has plenty of 2018 Subaru Foresters in stock. Just a short and beautiful drive from anywhere in Northwest Arkansas, Fort Smith, or Russellville, Adventure Subaru is the best dealership at which to buy your next car.
Affordable.
With a starting MRSP of $22,795, the Forester can work its way into any driver's budget. The car also features an average fuel economy of 29 miles per gallon, meaning you will save money at the gas pump as well as on the car lot. 
Safe.
The 2018 Forester is one of the safest cars on the market. The SUV works to protect you with sonar-enhanced EyeSight driver assist technology, blind-spot detection, and a standard rear-vision camera. With the Forester, you can drive confident in your cars ability to keep you safe.
Durable.
You can also drive confident in the Forester's ability to last. 98% of Foresters bought in the last 10 years are still on the road today. The Forester is built for the long-haul and all the adventures which you will undergo.
Versatile.
The 2018 Subaru Forester features top-of-the-line versatility. It has Symmetrical All-Wheel Drive, giving you unsurpassed power and stability on any terrain. The compact SUV also has 17- and 18-inch aluminum-alloy wheels which allow it to clear almost any surface.
The all-new 2018 Subaru Forester is the best car for Northwest Arkansas. It allows you to explore the surrounding Ozark Mountains while also performing well in the burgeoning metropolis. Swing by Adventure Subaru in Fayetteville to test drive or check out our inventory online here.