The month of March will soon be upon us, and wonderful springtime weather as well. It is about time, too! We've all been cooped up in the house due to winter. Ready to stretch your legs and get active again? We enjoy what Northwest Arkansas has to offer when it comes to fun events to celebrate the coming of spring. Adventure Subaru loves to pitch in and do our share by sponsoring local events for our communities. Here is a list of dates for spring events, we co-sponsor that encourage good health and exercise. These events promote community, fun, and healthy activities. So if you are ready to get outdoors and celebrate the coming of spring in a fun and healthy way, we at Adventure Subaru hope to see you at these awesome events.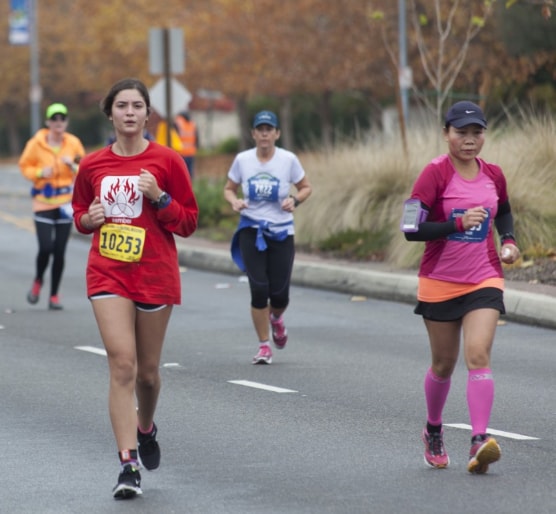 March 7th
University of Arkansas Alumni Association
Third Annual Running Of The Hogs
Who doesn't like to get out in the fresh air and stretch their legs? You can do both at the Arkansas Alumni Association's Third-Annual Running of The Hogs 5K and 10K Run on March 7, starting at Razorback Gardens at the University of Arkansas in Fayetteville. The 5K run begins at 9:10 a.m., and the 10K run at 9 a.m. Check-in time is at 7:45 a.m. for both runs. Just click on the link above to get important registration information.
March 14
The Spark Foundation
The Nutty Runner 5K is co-sponsored by the Spark Foundation, a non-profit organization that promotes health and fitness education. What makes this 5K different is that participants get to enjoy a pint of Columbus House Brewery's Nutty Runner ale at each mile along the way. The run will wind through downtown historic Fayetteville, passing through some of the city's most scenic neighborhoods. It's a chance to enjoy some local craft beverages and learn about health and fitness education opportunities in Northwest Arkansas.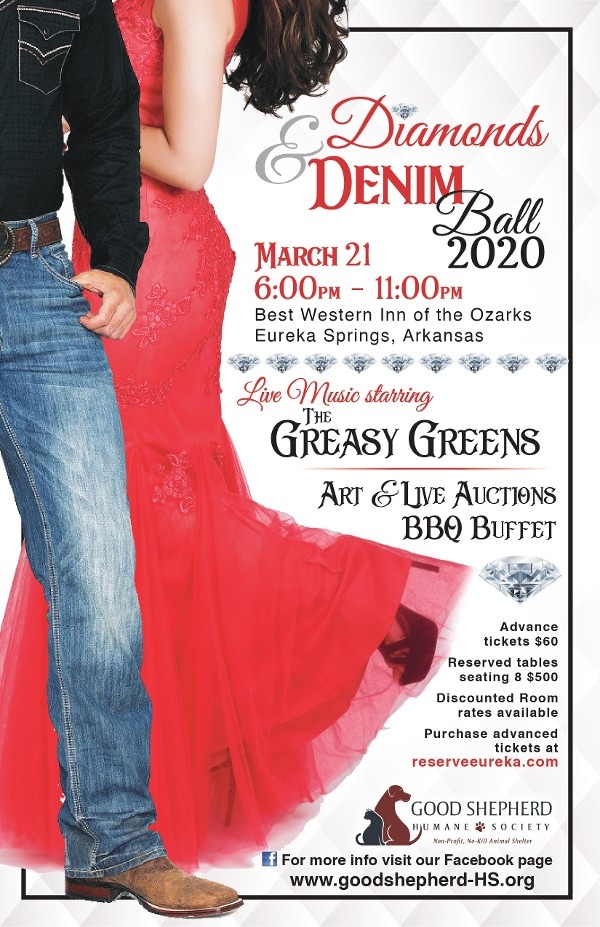 March 21
Good Shepherd Humane Society
Break out your best denim apparel and don't miss out on the Diamonds & Denim Ball! This shindig will start at 6 p.m. at Best Western Inn of the Ozarks in Eureka Springs. All proceeds go to help support the Good Shepherd Humane Society, a non-profit organization and the only no-kill pet shelter in Carroll County. So get dressed up and ready to cut the rug for a very good cause.

March 28
2020 Hogeye Marathon and Relay
Springdale, Arkansas
The 2020 Hogeye Marathon will begin at 7 a.m., with the start and finish on Emma Ave. in Springdale's Downtown District. The course takes runners past the city's five major parks and, as in previous years, will include a portion of the Lake Fayetteville Trail. The course will be run primarily on Springdale streets, but sections will run through Johnson and Fayetteville, and a small portion of the 26.2-mile course will take place on the Razorback Greenway. There will also be the half marathon, 5K run/walk, and four-person relay.

April 11
Spark Foundation
Get ready for some family fun! The annual Cow Paddy Run is one of the oldest group races in Fayetteville and was originally started to promote education and active lifestyles. There's a 5K for adults and older kids and a 1K Fun Run for the little ones. All proceeds go to the Spark Foundation's outreach programs and Fayetteville Public Schools to support innovative education projects about health and fitness.
Spring 2020 will be loads of fun for the family and a great time to hang out with friends. We at Adventure Subaru take much pride in co-sponsoring these wonderful events celebrating spring, community, and good health. If you need a great vehicle to take you and your family to any of these events, stop in at Adventure Subaru and let our friendly and professional Subaru team assist you with your vehicle needs. We hope to see you soon.
CLICK HERE TO CONTACT OUR WONDERFUL ADVENTURE SUBARU TEAM